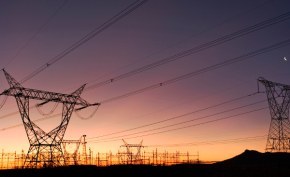 10 December 2014, Seoul – Nigerian civil servants had urged the Federal Government to partner with South Korea on electricity and transportation to ensure effective and efficient power supply and transport system in the country.
Some of the 30 Nigerian civil servants undergoing E-Government capacity development training in South Korea made the call in an interview on Tuedasy in Seoul.
The training is being conducted and coordinated by the Korean International Cooperation Organisation (KOICA), the South Korean government organisation charged with the responsibility of coordinating the government's Official Direct Assistance to developing nations and capacity training toward sharing Korean experiences.
A cross section of the participants said that Korea had both the technical and financial capabilities to put Nigeria through.
They stressed the need for Nigeria to partner with South Korea, saying power supply was a major challenge for Nigeria and that efficient power supply was the beginning of both industrial and information revolution for any nation to achieve economic development.
One of the participants, Mr Mohammed Agbali of the National Information Technology Development Agency (NITDA), said effective electricity supply was the only guarantee for the implementation of e-Government in Nigeria.
Agbali, who is a Principal Research Officer with NITDA, said Nigeria had done a lot in the area of e-government since it was launched in 2004 but had lost focus due to lack of synergy among Ministries, Departments and Agencies in the country.
He said that "Nigeria's problem is infrastructure; the South Korean government should assist us in the provision of key infrastructure such as electricity and brandband connectivity.''
He then urged the Federal Government to put in place necessary policies and measures to ensure the implementation of e-government in the country.
However, Mrs Veronica Adeyomo, ICT Director, Federal Ministry of Information and National Orientation, said e-Government was paramount to the development of the country.
She said "the e-government training served as eye opener to many of us. We saw some interesting things that will make government more efficient, more open to citizens and reduce the level of corruption in the system.''
Another participant, Mr Rasheed Kola, a System Analyst with ICT Department, Federal Civil Service Commission, said e-government training would enable participants to do things differently, which would take the country to new and better direction.
He advised the Federal Government to use a modular approach to e-government by establishing short term goals and long term goals.
"We should start with short term goals to actually see how we can use the set goals as benchmark for going forward and to boost the e-government programme in the country,'' Kola said.
Mr Ababas Babagana, a Principal Technical Officer with E-Government and IT Department, Federal Ministry of Communication Technology, advised Nigeria to benchmark what Korea had been using for its developmental programme, adding that "Korea is a country with high technological experiences.
"The Federal Government should establish special committee and earmark certain percentage of the annual budget to E-government implementation as it will go a long way to drive the initiative.''
Mr Nnamdi Okafor, an Assistant Director in charge of databank, Federal Ministry of Justice, said once there was constant electricity supply, a lot of business initiatives would thrive.
Okafor, who said that Nigeria has more resources than Korea, added that Nigeria could tap and use the abundant solar in the country, especially in the North, to generate electricity and have uninterrupted supply.
Mr Olufemi , Assistant Director, E-Government Department, Federal Ministry of Communication Technology, said that e-government would save the Federal Government a lot of cost.
The participants commended KOICA and the Fedearl Government for giving them the opportunity to participate in the E-government training and promised to share their experiences with their MDAs for successful implementation of the programme in the country.
*NAN