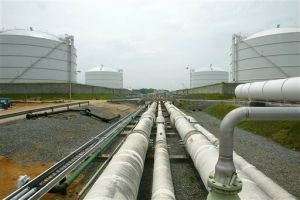 22 May 2013, Lagos – Group Executive Director, Gas and Power of the Nigerian National Petroleum Corporation, NNPC, Dr David Ige, has said Nigeria's gas infrastructure development would attract investment outlay of over $16billion within the next four years.
Ige disclosed this, Tuesday at the 4th annual Free Trade Zone conference in Lagos, maintaining that the aspiration for gas development is based on the three point strategic focus of the Gas Master Plan, GMP.
He stated that the plan under the strategic themes of the GMP, is to deliver gas for power generation to see at least threefold increase in generation capacity by 2015 and achieve reasonable level of gas based industrialisation by positioning Nigeria as the regional hub for gas-based industries such as fertiliser, petrochemicals and methanol by 2014.
"Opportunities for investments exist in the areas of Financial Services, Gas Transmission Pipelines, Pipe Milling and Fabrication Yards, Upstream Gas Development, LNG and LPG Plants and Gas Processing Facility/Gas Based Manufacturing Industries," Ige said.
On the proposed Ogidingbe Gas based Industrial Park, in Delta state, he said investment opportunities were available in the areas of Free Trade Zone Infrastructure, Port Infrastructure and Real Estate Development.
The park, he added, aims to create the largest gas industrial park in Sub-Saharan Africa with fertilizer, methanol and power projects as the central projects.