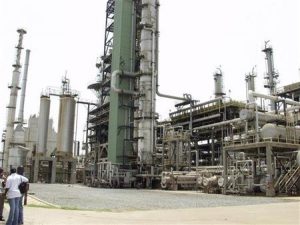 OpeOluwani Akintayo
04 August 2017, Sweetcrude, Lagos — The Minister of State for Petroleum, Dr. Ibe Kachukwu has said that Nigeria's midstream and the downstream infrastructural gap has hit about $40billion.
He made the statement inside bulletin published by Organisation of the Petroleum Exporting Countries (OPEC) during its 7th Annual International Seminar held in Vienna Austria recently
"We've estimated the infrastructure gap in the midstream and downstream to be about $30–40bn and that is one of the things we are going to be looking at."
He further stated that some of the required investment could come from Nigerians with investment capabilities, rather than being restricted to investors abroad.
Since oil prices started dwindling in 2014, Nigeria's economy plunged into recession as a result of low revenue from crude oil exports.
As a result, investors are withdrawing from staking their monies in the sector due to climbing costs of production.
Again, stakeholders who are already into the business, have stopped investing in infrastructures, as reports show that there has been no investment in Nigeria's oil and gas infrastructure for the past 15 years.
The federal government on its part keeps calling for both local and foreign investors with promises to reduce costs of production and doing business in the country.
The President of Chevron Africa and Latin America Exploration and production, Mr. Ali Moshiri had said that total investment by all players in Nigeria's oil and gas industry which stood at $20 billion in 2014, has dropped by 20 percent in 2015.
Nigeria accounted for $20 billion out of the $600 billion global investment in the oil and gas industry in 2014.