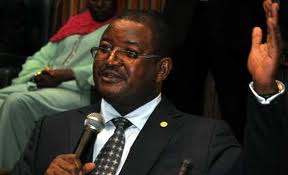 08 October 2012, Sweetcrude, ABUJA – NIGERIA's crude oil production has dropped to averages of 2.4 million barrels per day, m/bd, managing director of the Nigerian National Petroleum Corporation, NNPC, Mr. Andrew Yakubu, has said.
Mr. Yakubu, said the latest production figure was made fter recording an all time high crude oil production figure of 2.7 million barrels per day (mbpd) late July.
Mr Yakubu made this known at a reception in Kaduna organised by the state government in honour of some illustrious sons and daughters of the state.
According to him, the NNPC was also working to increase Nigeria's crude oil reserve from its current 37 billion barrels to 40 billion barrels by 2020.
He said that besides increasing the level of Nigeria's proven crude oil reserves, the NNPC is working assiduously towards increasing production from the current figure of 2.4mbpd to a record 4mbpd by 2020.
"As we endeavour to achieve effective transformation of the oil and gas industry in line with the Transformation Agenda of Mr. President, our target is to ensure that we grow our proven crude reserves to 40 billion by 2020 and also increase our production to 4 million barrels per day by 2020," he said.
Yakubu assured Nigerians that the NNPC, alongside its joint venture partners, is strategically focused on power generation via effective alignment with the power supply aspiration of the Federal Government.
He said the NNPC was also working on strategic upgrade of gas infrastructure in Kaduna and other Northern states to help resuscitate the ailing textile industry in that part of the country.