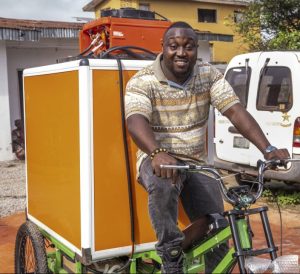 Lagos — Nigerian engineer Tolulope Olukokun was selected as the winner of the Africa Prize for Engineering Innovation's One-to-Watch Award of £5,000. South African Edmund Wessels and Ugandan Anatoli Kirigwajjo shared the ultimate Africa Prize, each taking home £25,000.
The One-to-Watch Award received by Olukokun recognises the potential of his innovation, an electric cargo bike with a battery powered fridge to help Nigeria's smallholder farmers get fresh food crops to market.
The Africa Prize for Engineering Innovation, founded by the Royal Academy of Engineering in the UK, is Africa's biggest prize dedicated to supporting and upscaling engineering innovation. The Africa Prize also promotes and connects the shortlisted entrepreneurs to individuals and networks around the world who can accelerate their business and provide support with technology development – from fellow entrepreneurs and mentors to potential investors and suppliers.
Follow us on twitter