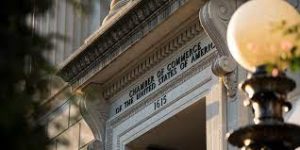 New York City, New York — The U.S. Chamber of Commerce's U.S.-Africa Business Center will host Nigerian President Bola Tinubu to ring the NASDAQ closing bell.
The U.S. Chamber's bell ringing ceremony with President Tinubu, taking place on the sidelines of the 78th session of the UN General Assembly, symbolizes the significance of the economic ties between the United States and Nigeria.
A statement released by the U.S. Chamber of Commerce disclosed that a livestream link will be made available upon request.
"We hope this celebration and the discussion as part of the U.S.-Nigeria Executive Business Dialogue serve to further strengthen economic ties and enhance collaboration between the U.S. and Nigerian business communities," the statement read.