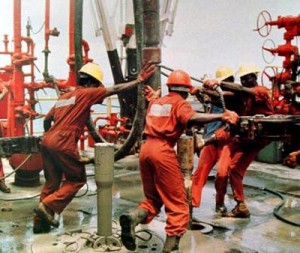 23 July 2014, Lagos – The Nigerian Bureau of Statistics said that crude oil production has averaged 2.26 million barrels per day in the first quarter of this year, bolstering the country's economic growth rate to 6.21 percent.
According to data released by the National Bureau of Statistics, oil output was 30,000 bpd lower than average production of 2.29 million bpd in the corresponding period of last year, but it was higher than the 1.87 million bpd at the end of 2013.
"As a result, the growth rate of real GDP was recorded at 6.21 percent in the first quarter in 2014, higher than 4.45 percent recorded in the corresponding quarter of 2013". This shows that there is a slight improvement in oil output by 1.76 percent (140,346 thousand bpd) in the first quarter of the year.
The Group Managing Director, Nigerian National Petroleum Corporation, NNPC, Andrew Yakubu, said the country's oil production was presently at over 2.3 million bpd, and expected to rise further as the government clamps down on oil theft and sabotage attacks on production facilities.
The statistics office said it expects the economy to grow by 6.19 percent in 2014, up from 5.5 percent last year, making a difference of 0.69 percent, on the back of rising oil output.
Oil is the backbone of Nigeria's economy.
But large scale theft and security challenges currently faced by the country have prevented Nigeria from producing up to its optimum estimated capacity of 3.2 million bpd, as well as depriving the country of an estimated amount of N966 billion ($6 bln) annual revenue.
However, Oando Energy Resources Inc., a company focused on oil and gas exploration and production in Nigeria, has announced completion of the acquisition of Medal Oil Company Limited for N800 million ($5 mln).
According to the company, "The purchase price of $5,000,000 was satisfied by the issuance of 3,491,082 units, each unit consisting of one ordinary share of the company and one-half of one warrant to purchase an additional ordinary share at a price of C$ 2.00 per common share for a period of 24 months from the date on which the company closes the acquisition of the Nigerian upstream oil and gas business of ConocoPhillips.
"Medal Oil holds a 5 per cent interest in Oil Mining License (OML 131). Upon completion of the CoP acquisition, Oando will own a 100 percent interest in OML 131".
– Vanguard