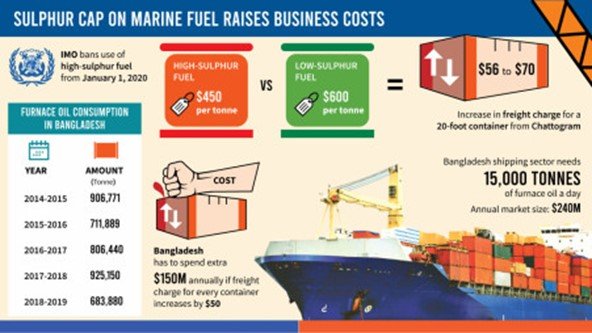 Vincent Toritseju
Lagos — There was confusion yesterday at a meeting with maritime stakeholders over the dearth of low sulphur fuel as Nigerian Maritime Administration and Safety Agency, NIMASA, prepares the country for enforcement of the International Maritime Organization, IMO, convention on 0.5 percent bunker fuel comes into force.
While NIMASA claims that there is dearth of low sulphur fuel, some Modular refinery operators said that the low sulphur fuel was readily available for suppliers of bunkers to supply to vessels.
Speaking in Lagos at the opening of a two-day meeting of the Agency with modular and other refinery operators and fuel oil suppliers in the country, NIMASA Executive Director, Operations, Mr. Ahmed Shehu said that the non-availability of low sulphur fuel has become an issue as the supplies now source bunker from the outside the shores of Nigeria.
Shehu said that NIMASA will ensure availability of the fuel in Nigeria in line with IMO sulphur content specification of 0.5 percent in collaboration with modular refinery operators, tank farm owners, bunker fuel suppliers and all other relevant industry stakeholders.
Shehu who represented by the Director of Marine Environment Management department, Mr. Isa Mudi also said that the NIMASA is also mulling sanctions for erring ship owners and operators who may fall foul of the convention when its implementation commences.
Meanwhile, an operator of a Modular refinery in the Niger Delta region, Mr. Mayowa Bolade said that his company has capacity to produce 11, 000 barrels of low sulphur fuel per day and called on the management of NIMASA to liaise with other operators of modular refineries to aggregate the production of this category of fuel to meet the needs of suppliers of bunkers to vessels.
Bolade said that the Niger Delta refinery can produce 0.2 percent low sulphur fuel which is lower than the recommended IMO 0.5 percent.
Similarly, Engr. Babajide Soyode, Technical Consultant to Dangote Refinery said that the refinery meet the demand of the low sulphur fuel provided that there is a ready market to under take what is produced.
Soyode said: "We have capacity to produce 5,000 ton of low sulphur fuel on demand."