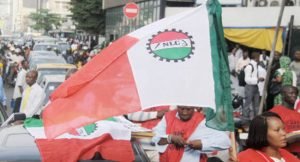 Lagos — The Nigerian Labour Congress, NLC, on Friday, after an emergency meeting of its executive council in Abuja, demanded that the hike in the price of petrol should be reversed.
NLC president Joe Ajaero said the union will go on strike from Wednesday to protest against a tripling of fuel prices in what would be the first big test for new President Bola Tinubu after he scrapped a costly fuel subsidy at his inauguration day on May 29.
"The Nigeria Labour Congress decided that if by Wednesday next week that NNPC, a private limited liability company that illegally announced a price regime in the oil sector, refuses to revert itself for negotiations to continue, that the Nigeria Labour Congress and all its affiliates will withdraw their services and commence protests nationwide until this is complied with," Ajaero said.
The fuel subsidy costs the government billions of dollars annually but is popular as it helped keep prices low in Africa's biggest oil producer.
Tinubu had, while delivering his speech after being sworn-in as Nigeria's president on Monday, declared that 'fuel subsidy is gone".
According to him, there was no provision for subsidy in the national budget from June 2023.
"We commend the decision of the outgoing administration in phasing out the petrol subsidy regime which has increasingly favoured the rich more than the poor. Subsidy can no longer justify its ever-increasing costs in the wake of drying resources.
"We shall instead re-channel the funds into better investment in public infrastructure, education, health care and jobs that will materially improve the lives of millions," he stated.
Shortly after the announcement, fuel stations in Lagos, Abuja and other parts of the country witnessed queues while some were shut by the owners.
Many fuel stations were not selling following the announcement but the few that were open were besieged by crowds of buyers.
The price of the commodity has since then risen to over N550 per litre from 189 naira at the petrol pumps.
Follow us on twitter