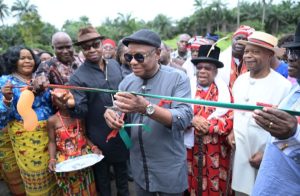 Mkpoikana Udoma
Port Harcourt — The Nigeria LNG Limited has affirmed its commitment to the Global Memoranda of Understanding, GMoU, signed with its host communities in 2021, to drive community-initiated sustainable development.
NLNG's General Manager, External Relations and Sustainable Development, Andy Odeh, said this at the commissioning of projects by the Rumuji Community Cluster.
The projects, which include a one-kilometre Rumuji/Rumuewhor Link Road, Scholarships to 29 university undergraduate students, and renovation and furnishing the Rumuji Community Development Foundation Secretariat, were funded and completed under the GMoU programme.
Under the GMoU framework, clusters were created to drive community-initiated projects through a Foundation that has a Board of Trustees, Steering Committees, and Community Trusts, while NLNG provides funding support to these clusters as the clusters are also encouraged to seek additional funds from other donors and development agencies to finance development initiatives in their respective communities.
Odeh said NLNG, guided by its vision of being a globally competitive LNG company helping to build a better Nigeria, designed the GMoUs to primarily touch lives and redefine sustainable development practice in the communities of the Niger Delta region.
"NLNG's GMoU is a testament to our unwavering commitment to empowering communities as architects of their destiny. Through meaningful partnerships and steadfast dedication, we are igniting the spark of self-reliance, fostering secure havens, and catalysing sustainable growth. This is not just development – it's a symphony of progress conducted by the communities it uplifts. NLNG's commitment to inclusive, sustainable development reflects in every stride we take together.
"Today stands as a testament to the fruition of our aspirations. The vibrant spirit and unwavering commitment exhibited by the Rumuji community in executing GMoU projects exemplify a journey of unparalleled transformation. Among these endeavours, the pioneering Rumuji/Rumuewhor Link Road shines as a beacon of progress, poised to elevate the socio-economic landscape," he stated.
Also, the Commissioner for Chieftaincy and Community Affairs in Rivers State, Engr. Charles Amadi, expressed his appreciation for NLNG's efforts in establishing a foundation for the Rumuji community to actively pursue sustainable development objectives.
Amadi lauded the community for their dedicated approach to the GMoU, evident from their meticulous formation of the Rumuji Community Development Foundation's Board of Trustees, all the way to the successful execution of various projects.
He stated further that the remarkable progress achieved by the community through NLNG's GMoU has positioned it as a reputable benchmark for developmental initiatives within the state.
For his part, the RCDF Board of Trustees Chairman, High Chief S.I.O Elechi, noted that the project was 100percent local content implemented, with a multiplier effect on job creation and building local capacity.
He called on community members to own and protect the projects to guarantee sustainability. He also commended NLNG for the GMoU framework, assuring the Company that the community will continue to ensure harmonious relationships and a peaceful environment for its operations and protection of its assets.