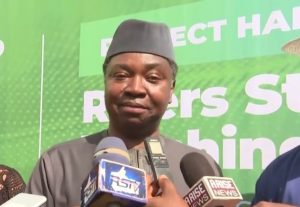 Oritsegbubemi Omatseyin
Lagos — As part of Its effort to support healthcare delivery, Nigeria LNG Limited, NLNG, recently handed over a newly equipped multi-million-naira one-story building housing an Infectious Disease Unit, IDU, at the Rivers State University Teaching Hospital, RSUTH, in Port Harcourt.
At the handover ceremony, NLNG's Managing Director/Chief Executive Officer, Dr. Philip Mshelbila, represented by General Manager, External Relations and Sustainable Development, Mr. Andy Odeh, said this was a project initiated to improve medical service delivery in Rivers State to deal with pandemics like COVID-19.
He stated that NLNG had a long-standing commitment to healthcare delivery, which is one of the four pillars of the Company's Corporate Social Responsibility interventions. He said that NLNG was fully committed to its Corporate Social Responsibility programs anchored on Health, Education, Infrastructure Development, and Empowerment and will continue contributing to building a better Nigeria in line with its Vision.
"You may all be aware that our upgrade of 6 of the 12 selected University Teaching Hospitals across the country under the Hospital Support Programme has been completed while work is ongoing on the Programme's second phase. In embarking on the Hospital Support Programme, NLNG aimed to improve the general well-being of Nigerians across the six geo-political zones where these interventions are going on. We also, by this, plan to minimize or reduce medical tourism and save a chunk of revenue and foreign exchange that Nigerians usually spend in other countries".
"Particularly for us in Rivers state, we have every reason to intervene in healthcare facilities and other infrastructure. Nigeria LNG Limited sees itself as a corporate citizen of Rivers State, not just based on our location here, but following the acceptance, love, and understanding shown to us by the various governments and people of Rivers State. We do not take this support and friendly environment to do our business without let or hindrance for granted. This explains why we see ourselves as part and parcel of Rivers State and want to contribute in the best possible way to make the state glow," he said.
He called on the RSUTH management to ensure that the new unit and facilities are effectively and judiciously utilized for effective healthcare delivery to benefit the citizenry and urged them to ensure sustainable management of the center so that it can remain a legacy for future generations.
The Rivers State Commission for Health, Professor Princewill Chike, commended the Company for its contribution while acknowledging that there were still opportunities for improvement to bring healthcare delivery at the hospital to top-class. The Chief Medical Director of RSUTH, Dr. Friday Aaron, stated that NLNG made history as the first private organization to build and equip a facility at the hospital.
The unit was commissioned by the Health Commissioner and Chairman of NLNG's Board of Directors, Dr. Edmund Daukoru, represented by Chief (Dr.) Franklin Igbado, Technical and Business Advisor to the Chairman.
The Infectious Disease Unit (IDU) is a modern healthcare infrastructure with associated facilities that include isolation wards, a triage station, cohort rooms, operation theatres, emergency operation centers, intensive care units, laboratories, first-floor walkways, and other administrative offices/rooms.
NLNG is owned by four Shareholders, namely, the Nigerian National Petroleum Company Limited (49%), Shell Gas B.V. (25.6%), TotalEnergies Gaz & Electricity Holdings (15%), and Eni International N.A. N. V. S.àr.l (10.4%).
Follow us on twitter