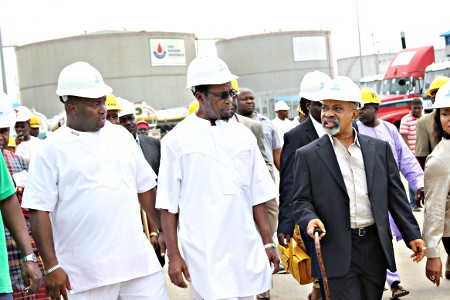 THE mobile distribution of Kerosene tagged 'NNPC, Capital Oil Kero-Direct' to ease distribution challenges and stem the incidence of racketeering and profiteering by petroleum marketers took off to a flying start in Lagos at the weekend.
As early as 8 am in the morning residents of Amuwo Odofin Local government and that of Apapa had besieged their local government headquarters in a bid to obtain kerosene at N50 per litre from five mobile dispensing trucks parked within their respective premises.
For these residents the development appeared too good to be true especially against prevailing realities at the pumps where they had to pay N150 per litre to obtain Kerosene.
While speaking much later in the day at an official flag-off of the scheme at the Capital Oil and Gas Industries depot and jetty facilities, Mr. Farouk Bello, the managing Director of NNPC Retail Limited explained that the mobile dispensing of Kerosene had become necessary to ensure that the product got to the end users.
He disclosed that NNPC Retail would continue to explore ways and means of making sure that the energy needs of the citizenry is serviced, adding that as a way going forward 22 million litres of Kerosene had been provided for take-off of the NNPC, Capital Kero-Direct scheme.
Also speaking, Mr. Ifeanyi Ubah, the managing director and chief executive of Capital Oil disclosed that 57 trucks had been primed and deployed in the Lagos area alone for the take-off of the scheme, adding that each truck had capacity for 22,000 litres.
Mr. Ubah explained that the idea is to dispense only 25 litres to each person who wants to purchase, adding that this way, up to 880 house-holds stand to benefit from each truck.
He said those who want to purchase kerosene would have to obtain a mandate to pay from the local government headquarters and make the payment of one thousand, two hundred and fifty Naira (N1,250.00) for 25 litres at designated banks.
"This scheme will afford our people greater and easy access to the product with a view to reducing the use of charcoal and firewood which more of our people, in recent times, have resorted to for cooking," he said.
He assured that all arrangements had been put in place to ensure continuous availability of the product, noting that the choice of the local government headquarters as a selling point is a deliberate ploy to ensure that the product gets to the end users.
"We are determined to bring to an end, the current unacceptable high price of kerosene in the country for the benefit of the teeming populace that rely on the product for their daily needs," Ubah assured.