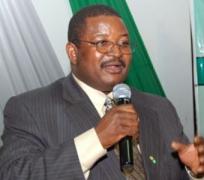 05 August 2012, Sweetcrude, Abuja – Following the presidential directive for crude oil theft to be stamped out, the Nigerian National Petroleum Corporation (NNPC) has expressed its determination to collaborate with other Federal Government agencies to bring it to an immediate end in the Nigerian maritime industry.
The Group Managing Director of the Corporation, Andrew Yakubu stated this when the Inter Agency Maritime Operation Committee paid him a courtesy call at the NNPC Towers, Abuja.
Yakubu noted that NNPC must rise up to the occasion along with other government agencies to confront and bring to book unscrupulous individuals that have deprived and depleted the nation's economic resources as a result of their illegal maritime activities.
"The Maritime industry significantly impacts on our industry and we really do appreciate efforts of Mr. President to address particularly issues that border on crude oil theft. We are ready to support the various initiatives of the Federal Government so as to stem the embarrassing trend of illegal bunkering in the maritime industry," Yakubu stated.
According to him, "We know the impact of bunkering and crude theft on our economy and our environment. These are vices that we must collectively stamp out of our nation. We cannot claim that we are helpless," he observed.
He decried the daily loss of several thousands of barrels of crude oil to illegal bunkering and said blocking of this leakage would go a long way in improving the standard of living of Nigerians.
Earlier, the Chairman of the Inter Agency Maritime Operation Committee, Rear Admiral E. O. Ogboh said the committee was established a month ago to address the issue of illegal bunkering in the nation's maritime waters.
Also speaking, the Senior Special Assistant to the President on Maritime, Mr. Leke Oyewole stated that the committee was set up to ensure adequate collaboration among all agencies of government in the nation's maritime industry in order to maximise the potentials in the industry.
Members of the Inter Agency Maritime Operation Committee are drawn from the NNPC, Nigerian Navy, Air Force, Customs, Police, State security Service and the Judiciary.