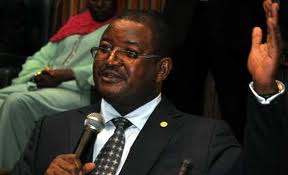 17 May 2013, Abuja – The Nigerian National Petroleum Corporation, NNPC, is to fast-track its strategic partnership with the Nigerian military to arrest pipeline vandalism in the country, Group Managing Director of the corporation, Mr. Andrew Yakubu, has said.
He disclosed this, Thursday in Abuja when a delegation of participants in Course 53 of Indian National Defence College visited the NNPC corporate headquaters.
Represented by Dr Peter Nmadu, Group Executive Director, Corporate Services, at the corporation, Yakubu said the partnership with the military was crucial to NNPC's operation.
"I would like to inform you that our relationship with the Nigerian military has been very cordial.
"They have continued to assist us in performing our strategic role towards developing the nation's economy," the NNPC boss said.
He stated that besides being a strategic partner to Nigeria, India was one of the major buyers of Nigerian crude oil.
According to him, Nigeria was seeking ways of fostering the cordial relationship between both countries in the oil and gas industry.
"Right now, we are considering the Indian Model of Liquefied Petroleum Gas in our quest to improve the domestic gas utilisation of our abundant gas," he said.
Yakubu further stated that the NNPC was working hard to transform the operations of the oil and gas industry to boost the growth and economic development of the nation.
Leader of the delegation, AVM Pirin, in his speech, said they were in Nigeria as part of an African tour to study the economy and security issues.