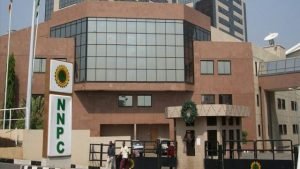 OpeOluwani Akintayo
Lagos — The Nigerian National Petroleum Corporation, NNPC, spent N538.94 billion against a revenue of N578.79 billion in February this year.
The corporation said in its monthly report for February that while expenditure for the month increased by 29.21% or N121.83 billion to stand at N538.94 billion, revenue as compared to January 2021, increased by 35.64% or N152.07 billion to stand at N578.79 billion.
This implies that its February expenditure as a proportion of revenue is 0.93% as against 0.98% recorded in January.
The February report represents a trading surplus of ₦39.85 billion compared to the ₦9.62 billion surplus in January 2021.
The NNPC also reported revenue of N425.74 billion against an expenditure of N416.44 billion in January.
It attributed the gains mainly to reconciled accounts by its subsidiary, the Pipelines and Products Marketing Company, PPMC, using the Petroleum Products Pricing Regulatory Agency, PPPRA's, pricing template. Likewise, it said, Duke Oil, the Nigerian Gas Company, NGC, and the Nigerian Gas Marketing Company, NGMC, had recorded noticeable robust gains attributed to increased debt collection and cost optimisation measures.
Due to the COVID-19 pandemic, the Corporation's highest revenue for 2020, N546.65billion, was recorded last December.
Stakeholders have over the years maintained that the NNPC's revenue contribution to the federation account are too low when compared with its expenditures.
For instance, a total export sale of $87.98 million was recorded in December 2020; decreasing by 19.17% compared with November.
Crude oil export sales had contributed $23.49 million (26.70%) of the dollar transactions in December compared with $73.09 million contribution in the previous month; while the export gas sales amounted to $64.49 million in December 2020.
The December 2019 to December 2020 crude oil and gas transactions indicated that crude oil and gas worth $2.48 billion was exported.
Again, in February, total export sale decreased from $87.98 million recorded in January to $83.24 million.
The Corporation had said its export revenue declined by 45.87% to $2.62bn in 2020. The total revenue generated from crude oil and gas exports fell from $4.84 billion in 2019 to $2.62 billion in 2020. This is a decline of 45.87 percent year-on-year.
Experts have argued that to set the Corporation on a path of profitability means allowing private entities own  larger equity in the firm.
However, as an effort to rewrite history, a statement attributed to its boss, Mele Kyari, says the Corporation had reduced its administrative costs by 22% between 2018 and 2019.
In its first published audited financial statement (2019), the Corporation presented key information on its financial health- reduced loss by 99.7% – from N803 billion in 2018 to N1.7 billion in 2019 – thanks to a significant increase in profits from its subsidiaries between 2018 and 2019.
Other highlights in the 2019 report include: a nearly 15,000% increase (N23 billion profit in 2019) by the Integrated Data Sciences Limited (IDSL), 167% increase (N478 billion profit in 2019) by the Nigerian Petroleum Development Company (NPDC), 124% increase (N2.83 trillion profit in 2019) by the National Petroleum Investment Management Service (NAPIMS), 52% increase (N14.2 billion profit in 2019) by Petroleum Products Marketing Company (PPMC), and a 15% increase (N10 billion profit in 2019) by the Nigerian Gas Marketing Company (NGMC).
Despite Kyari's efforts, the revised Petroleum Industry Bill, PIB, when eventually assented to by President Muhammed Buhari, will scrap the NNPC, replacing it with the NNPC Limited.