*Osinbajo advises single-digit production cost   *Kyari says PIB to be passed mid- 2021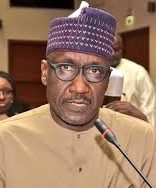 OpeOluwani Akintayo
Lagos — The Nigerian National Petroleum Corporation, NNPC, has vowed to achieve a crude oil production cost of $10 per barrel by the end of 2021.
This was revealed on Tuesday by the NNPC Group Managing Director, Mele Kyari, at the opening of the 38th Annual International Conference & Exhibition, AICE, of the Nigeria Association of Petroleum Explorationists, NAPE, holding virtually and physically in Lagos.
According to Kyari, reduction in cost was necessary to draw more local and foreign investment into the Nigerian oil sector.
"Nigeria is one of the most expensive cost-producing countries in the world. And if care is not taken and cost not drastically reduced, we would find ourselves in a position where we would produce oil without buyers," he said.
While delivering his keynote address at the event, Kyari explained that Nigeria had lost about $3 trillion in 2020 due to oil price slump, resulting from the COVID-19 pandemic.
As a result, he said, the country was left with just two options; to cut down cost, and to increase revenue.
"However, what we are more focused on at the moment is cost reduction," he added.
However in his goodwill address, Vice President Yemi Osinbajo, represented by the Minister of States for Petroleum Resources, Timipre Sylva, said the country looked forward to NNPC achieving a single-digit production cost.
"In the past few months, we have faced challenges resulting in sudden slump in crude oil price, caused by the collapse in demand due to the COVID-19 pandemic. The low price and OPEC+ crude oil production curtailment have largely resulted in lower revenue generation for the government.
"One of the current cardinal mandates of the Ministry of Petroleum Resources is to drastically reduce the unit cost of crude oil production so as to increase revenue generation. It is imperative that in our current era of scarce resources, we should aim at a unit cost of production in single digits. Concerted efforts should be brought to bear to achieve and sustain this," he said.
Prof. Osinbajo also advised that the oil sector works on establishing development and research centres across the country as one of the ways of achieving cost reduction, likewise cost-reflective exploration activities.
"In order to significantly grow our hydrocarbon reserves, we need to invest immensely in research & development so as to support the industry. We need effective synergy and collaboration amongst Policy Makers, academic institutions, professional bodies, Oil & Gas Industry players, and the Research & Development Centres to come up with innovative ideas and technology for cost effective exploratory and drilling activities. This is my expectation from your Association," he said.
Meanwhile, Kyari has revealed that PIB would now be passed by the National Assembly mid-next year, contrary to an earlier target of March 2021,
According to the NNPC GMD, passing the PIB "will be the solution to investment challenges faced by the Nigerian oil sector."
"Investment in new terrain such as gas as the transitional fuel for Nigeria is one of our focus and the PIB is the solution to drawing the required investments," he said.
"Without it, nobody will invest in gas. That terrain needs a clear policy statement to guide investors," he said, adding that the federal government is focusing on local gas utilisation and, at the same time, exporting same.
The NAPE 38th Annual International Conference & Exhibition, with the theme, "Accelerating Growth in Nigeria's Hydrocarbon Reserves: Emerging Concepts, Challenges and Opportunities",  is holding in Lagos from 15th-19th November 2020.