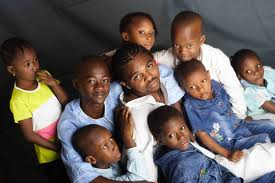 26 Feruary 2013, Sweetcrude, Lagos – The Nigerian National Petroleum Corporation, NNPC, has pledged to support the Kanu Heart Foundation, KHF, in its quest to build a befitting hospital for heart surgery in the country.
The Group Managing Director of the Corporation, Mr. Andrew Yakubu, made the pledge when he received the founder of KHF and former Super Eagles player, Nwankwo Kanu in his office at the NNPC Towers in Abuja.
"As an entity, we believe in Corporate Social Responsibility. We participate in things geared towards giving back to the society.
Therefore, we will support you on this laudable project and also urge other stakeholders within our areas of operation to do so," Engineer Yakubu stated.
The NNPC boss also lauded the former soccer star for his achievements in the field of play and in particular, for his decision to give back to God for the miracle done in his life and glistering career. "I pray God keeps you long enough to fulfill your dream," he added.
By way of support, he said a strong team of medical staff from the Corporation will be deployed to collaborate with the KHF in order to determine areas where the NNPC can be of assistance, adding that the NNPC would honour the invitation to the launch of the new KHF Hospital in Abuja, scheduled to hold on 14th March, 2013.
Earlier, Nwankwo Kanu told the GMD that the Foundation, which had so far conducted 452 successful heart operations, was planning to build a hospital in Nigeria so as to be able to do the operations in-country.
He however said that over the years, the KHF have been having funding challenges, calling on the NNPC to, on behalf of the less-privileged kids, support this initiative of giving hope to Nigerian kids.
"As you know, we are currently the champions of Africa in football. It will surely be nice if we also become the champions of Africa in the health sector. We'll like NNPC to reach out to other stakeholders in the oil and gas industry to support us.
"Currently, we have about 150 operations cases that are pending now. We believe when this hospital is built in Abuja, Nigerians with heart defects would be able to easily find some medical solace here without going through the stress of going abroad for medication," Kanu said.
The KHF, which was founded in 2000 is a charity organisation established to help under-privileged African children and young adults who are living with different heart ailments in Nigeria and other African countries respectively to get cardiac surgical operations needed.