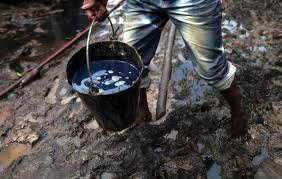 SAM IKEOTUONYE 17 August 2014, Sweetcrude, Lagos –
The war between Anambra and Kogi States communities over oil wells in their boundaries has refused to go away. Four people
from Aguleri, Anambra East Local Government area were killed
and seven others seriously injured in the latest clash between
the people of Aguleri and Echeno/Odeke in Ibaji Local Government Area of Kogi State.
At the root of the inter-state crisis is the oil deposits on the Omambala River basin. Clashes between the two communities began last year after President Goodluck Jonathan commissioned the Orient Petroleum Refinery at Aguleri Otu in Anambra State and declared the state "the latest entrant to the nation's league of oil producing states".
The clashes usually involved use of sophisticated weapons, even in the face of security operatives at the buffer zone carved out in the area by the National Boundary Commission in an effort to curb the crisis.
As a result of the frequent clashes, the National Boundary Commission had last year also held meetings with the deputy governors of the two states to bring peace to the area. Mr. Peter Obi, former governor of Anambra State, while he was still office, also met severally with his Kogi State counterpart, Idris Wada, on the same issue of finding a lasting solution to the trouble.
Following the latest clash,
Anambra State Governor, Chief Willie Obiano, has reached out to Wada as part of efforts to ensure enduring peace and security in the border area.
"We are working out comprehensive strategy and modalities to entrench lasting peace and check excesses of the miscreants, the attack has nothing to do with the oil producing area as some people claim but an aggression by some misguided persons," Governor Obiano said.
Some
of the victims in the clash, who spoke with the governor when he visited them at a private hospital in Onitsha, unknown gunmen invaded the community from Kogi State in the afternoon and started shooting sporadically at fishermen and farmers who were at work.
Governor Obiano, meanwhile, said the Kogi governor had apologised over the incident and warned their youths to desist from such unprovoked attack.