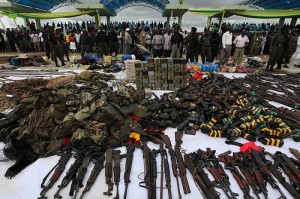 Emma Arubi
22 February 2013, Sweetcrude, WARRI – THE Coordinator of the Inter-Agency Task Force, IATF,set up by the Federal Government to carry out the verification and reconciliation of disarmament records, Air Vice Marshal James M. Gbum has stated that the government has not declared a fresh amnesty programme for the Niger Delta region.
He made this clarification yesterday at the 3 Battalion Army Barracks, Effurun, near Warri at the during the display ceremony of weapons surrendered by ex-militants to the Joint Task Force, JTF and other security agencies in the state.
Air vice Marshal Gbum said the Federal Government set up the Task Force because, in spite of the successes record by the Amnesty programme, it was still very clear that "a significant quantity of arms and ammunition are still in the hands of former militants, criminals and other residual groups in the region", noting that the Task Force was meant to mop up these arms and ammunitions so surrenered by genuine militants up to March 2012.
According to him,the mandate of the Task Force that has been in Delta for the past three weeks is "simply to reconcile the Disarmament Records and Document qualified former armed youths in the state", noting that though the Task Force is often referred to as an Inter-Agency Task Force for the Third Phase Amnesty Programme,"the President has not declared a fresh Amnesty Programme for Niger Delta".
He further revealed that that during the verification exercise the Task Force that most of the weapons submitted were "ptimitive and archaic such as dane guns, cutlasses,catapults and battle axe", saying that the categories of persons who submitted this weapons are not qualified for documentation, just as those with fake document were also detected and screened out.
The Coordinator thanked Governor Emmanuel Uduaghan and the good poeple of the state for their hospitality and immense support throughout thr duration of the exercise that was painstakingly accomplished, saying that the Inter-Agency Task Force was able to recover a total of 14,586 weapons of various make including 10,821 single barrel;2,451 dane guns;636 locally made pistols and 444 double barrel locally made guns respectively