15 April 2016, Abuja – The National Oil Spill Detection and Response Agency and the Nigeria Security and Civil Defence Corps on Thursday agreed to work together to track down individuals involved in the vandalism of oil and gas pipelines across the country.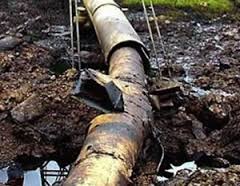 Both agencies agreed to cooperate at the headquarters of the NSCDC in Abuja during a courtesy visit by the Director-General/Chief Executive, NOSDRA, Peter Idabor, to the Commandant-General of the corps, Abdullahi Muhammadu.
The NOSDRA boss stated that the visit was of critical importance considering the major roles of both agencies in the country's petroleum industry.
Idabor said NOSDRA had a mandate of managing oil spills, while the NSCDC had an extant function of protecting the country's critical infrastructure like oil pipelines from vandals.
He said, "NOSDRA seeks deeper working relationship with the NSCDC, with the objectives of closer cooperation and collaboration being anchored on the necessity of the two sister organisations of building synergy on effective means of tackling the crucial challenges of pipeline vandalism and artisanal refineries."
"Pipeline vandalism and artisanal refineries are mainly blamed for oil pollution across the Niger Delta region and beyond. So, we need to explore proactive avenues like joint sensitisation and awareness campaigns against these menace on oil producing communities."
Idabor also stated that the NSCDC, by reason of the visit, would use its anti-vandal unit to provide security cover to NOSDRA officials during field activities like surveillance of pipelines and joint investigation exercises.
In his response, the commandant-general promised that the NSCDC would join forces with NOSDRA to track down and prosecute pipeline vandals.
Muhammadu, however, noted that Nigeria's critical infrastructure were beyond pipelines, but admitted that the spate of vandalism of oil and gas installations was alarming.
He therefore vowed to work with the oil spill management agency to go after vandals, adding, "I'm using this opportunity to send a note of warning to vandals to keep off our pipelines.
"And based on this collaboration, we will establish a desk office in charge of oil spillage and will provide teams that will go with NOSDRA for monitoring and surveillance whenever we are called upon."
– Punch