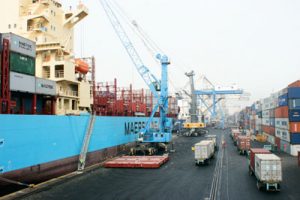 Vincent Toritseju
07 August 2017, Sweetcrude, Lagos — THE Nigerian Ports Authority, NPA, has banned the collection and acceptance of gift item and souvenirs from vessel crew members by officials of the agency who board vessels for official purposes.
In the minutes of the meeting of the Ports Facility Officers, PFSO Forum, NPA's Assistant General Manager, Security, Mr. Mohammed Khalni said that the purpose was to reduce access to the port.
Khalin told the Forum that port access and other requirements are needed to access the port as even as other measures are also being considered to make the port areas more secured.
He opined that since the security agencies in the port have been prune down, access to the port should be more restricted.
He explained the Committee that was set up to ensure enforcement of the Executive Order has also constituted a Task Force that will use the Lagos port Complex as a case study.
He disclosed that consultation by the Committee with other stakeholders has been going on adding that the recommendation of stakeholders' engagement has been sent to NPA for implementation.
He said "Various measures have been put in place to reduce access to the ports, even with a port pass; other documents were required to for access.
"Already, there are measures in place to address and eradicate all forms of exploitation and extortion in the ports.
"The collection and acceptance of gift items and souvenirs from captains and crew members of when boarding vessels have been abolished forthwith.
Recall that about four years ago, four immigration officers were arrested for looting a vessel they boarded to carry out official duties.