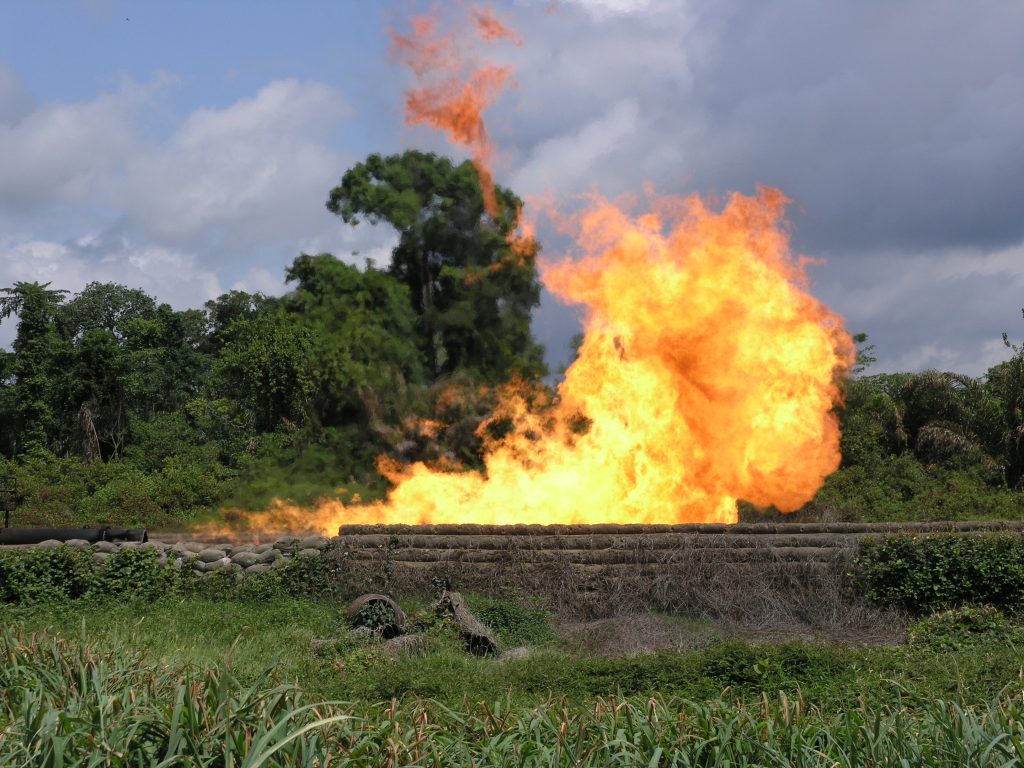 Sam Ikeotuonye 
Lagos – Indigenous company Belema Oil, Seplat and Nigerian Petroleum Development Company, an arm of the Nigerian National Petroleum Company, NNPC, were the worst offenders in the oil and gas sector in in the area of gas flaring in the month of February, this year.
The three companies flared 100 per cent of their gas output, according to gas utilisation data released by the NNPC.
They were followed by Agip Energy and Natural Resources, which flared 95.93 per cent of its total gas output, and First Exploration and Production Limited, which flared 95 per cent of its total gas output.
The gas utilisation data showed that oil and gas companies operating in Nigeria produced 149.263 billion standard cubic feet, SCF, of gas in February, a 6.72 per cent drop, compared with 160.013 billion SCF produced in January.
A breakdown of the total gas output for February 2023 showed that associated gas stood at 107.702 billion SCF, while non-associated gas output stood at 41.561 billion SCF.
According to the NNPC, 93.52 per cent of the gas produced was utilised, while 6.48 per cent was flared.
Specifically, 139.589 billion SCF of gas was utilised in February 2023, dropping by 7.25 per cent when compared with 150.493 billion SCF of gas utilised in the previous month, while 9.674 billion SCF of gas was flared, up by 1.62 per cent, from 9.520 billion SCF flared in January 2023.
The NNPC stated that 9.084 billion SCF of gas was used as fuel gas; 45.977 billion SCF was allocated to the Nigerian Liquefied Natural Gas, NLNG; while 5.247 billion SCF was allocated to the Escravos Gas to Liquid, EGTL, plant.
In addition, 2.353 billion SCF of gas was used for Natural Gas Liquids/Liquefied Petroleum Gas, LPG; domestic gas sales by the Nigerian Gas Company and others gulped 23.222 billion SCF, while 53.705 billion SCF was used by gas re-injection and gas lift make-up.
In the Joint Venture segment, Mobil Nigeria recorded the highest gas output, with 25.668 billion SCF, followed by Shell with 24.203 billion SCF; TotalEnergies produced 23.481 billion SCF of gas; while Chevron recorded gas output of 20.683 billion SCF.
However, despite producing the highest quantity of gas in the month under review, Mobil flared 6.26 per cent of its total gas output; Shell flared 4.19 per cent of its total output; Total Energies flared 2.37 per cent of its total output, while Chevron flared 9.03 per cent of its gas output.
In the Production Sharing Contract, PSC, segment, Star Deepwater – Agbami Floating Production, Storage and Offloading, FPSO, produced 12.744 billion SCF of gas, out of which 1.06 per cent was flared; while TotalEnergies Upstream Nigeria's Akpo FPSO produced 11.975 billion SCF of gas and flared 1.22 per cent of the total.
Follow us on twitter