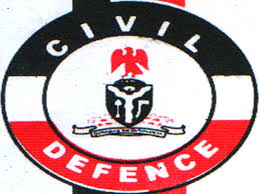 15 April 2014, Uyo – The  Nigerian Security and Civil Defence Corps have arraigned eight persons suspected to be involved in vandalising electricity cables, transformers, as well as transporting adulterated products.
It was learnt that the two trucks that carried the adulterated products were parked at Etisalat base station on Abak Road, Uyo.
The adulterated products were allegedly meant for the generators.
The state Commandant, Mr. Pedro Ideba, said the driver and the conductor of the second truck escaped arrest.
He stated that the corps operatives, however, arrested the driver and the conductor of the first truck.
He said, "We impounded two trucks carrying adulterated products on Abak Road, Uyo.
"In one of the trucks, its occupants, upon sighting our men, escaped, but we arrested the men in the other truck, who were to feed the generators at Etisalat station with the adulterated products. The tankers and the suspects are under investigation.
"On March 6, we arrested over four persons who were found tampering with equipment of Port Harcourt Electricity Distribution Company, and on March 11, we also arrested two persons who tampered with transformers at Ewet Housing.
"Few days ago, we picked up two other persons tampering with high tension cables. All these people have been arraigned before a law court."
Ideba stated that on March 29, the Nigerian Navy, NNS Jubilee, Ikot Abasi, arrested and handed over three persons who were involved in fuel adulteration to the corps.
He said the corps would continue to do its best to ensure that the people of Akwa Ibom State continue to enjoy good products from the Nigerian National Petroleum Corporation.
He added that the corps had unyielding interest towards ensuring that lives and property of the people of the state were protected round the clock.
"If you talk about vandalism and oil theft in Akwa Ibom State, we have been able to reduce them to the barest minimum. This goes to tell Nigerians that our men are up-to-date with reality on grounds," he said.
– The Punch