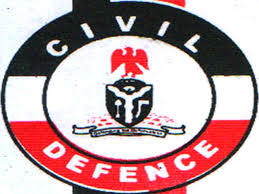 21 April 2014, Lagos – The Lagos State  Command of the Nigeria Security and Civil Defence Corps, yesterday arrested two boat operators in Coconut area of Lagos, for allegedly selling  siphoned petrol.
Recovered from the suspects, were 66 jerry cans filled with the alleged siphoned petroleum product.
But the suspects denied the allegation, stating instead, that the recovered jerry cans were loaded into their boats by the NSCDC officials.
The suspects identified as Abu Idris and Kunle Ayandokun, according to the command's commandant, Clement Adesuyi, attempted to bribe the officials with N40,000 upon their arrest.
He explained; "They were arrested  around the creeks in Apapa. We  impounded three of their operational speed boats  with 66 kegs of petrol.  Investigations are ongoing at the end of which they would be prosecuted. The N40,000 they attempted to bribe our officials with have been tendered as exhibits", he stated, calling on members of the public to avail them with useful information that would lead to the arrest of pipeline vandals.
However on their part, the suspects denied culpability. One of them, Anyadokun claimed to be a member of the maritime workers union. He alleged that the recovered jerry cans were put inside his boat by the NSCDC officials.
Said he: " I do not know anything about the recovered jerricans. On Sunday, some NSCDC men stormed our area to arrest pipeline vandals. On sighting them, those who usually sell the product  jumped into the water and escaped. Some of the officials entered my boat and told me to help them chase the fleeing suspects but they could not get them.
"They told me to load some of the stolen fuel into my boat and  take them to Iddo, but on reaching the place, I was arrested, as they claimed  I was among the pipeline vandals."
– See more at: http://www.vanguardngr.com/2014/04/nscdc-arrests-2-selling-siphoned-petrol/#sthash.aMGcjpw1.dpuf