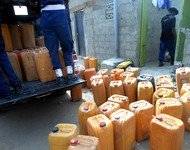 17 November 2015, Lagos – The Jigawa Command of the Nigeria Security and Civil Defence Corps on Tuesday said it had raided 'depots' used by illegal petrol hawkers in Dutse.
NSCDC said in a statement in Dutse signed by its Commandant, Malam Muhammad Gidado, that the raid was carried out by the command's Special Task Force on Illegal Fuel Hawking, on November 13.
He explained that the raid was carried out after the office received intelligence reports on activities of the hawkers.
According to him, the raid was part of the command's resolve to clamp down on illegal petrol sellers in Dutse.
He said the suspects, on sighting men of the command, took to their heels leaving behind 47 cans of 25 litres of fuel each.
Gidado, however, said that out of the 47 jerry cans, only five were filled with Petroleum Motor Spirit.
The commandant warned people sabotaging government efforts toward fuel sufficiency to steer clear of Jigawa as anyone caught would face the full wrath of the law.