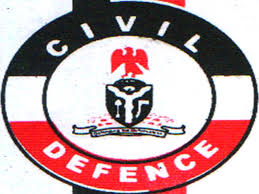 11 April 2014, Abeokuta – The Ogun State Command of the Nigeria Security and Civil Defence Corps has arrested three suspected pipeline vandals and also discovered a distribution centre for stolen fuel in the state.
The suspects, including a woman, were said to have been arrested in Abeokuta, the Ogun State capital.
The state NSCDC Public Relations Officer, Mr Kareem Olanrewaju, said the suspects were found in possession of large volume of petroleum products in kegs, drums and  water-pots in the suspects' residential apartment at Lukosi Village in Ogijo,Ogun State.
He said, "The three suspects – Rahmon Yusuf,37; Nwoke Chi, 34;  and the female,  Sekinat Yusuf,32, were living in the house. The place serves as a distribution centre where petrol, diesel and other vandalised petroleum products are received, stored and supplied to their customers at cheap prices."
Olanrewaju explained that the NSCDC anti-vandal team had been on the trail of the suspects since December 2013.
"Our effort paid off yesterday (Wednesday) when we were able to trap the suspects and recover a number of exhibits," the PRO added.
Kareem said the state Commandant, Aboluwoye Akinwande, had ordered a  comprehensive investigation into the case.
He said, "The fact that the location of their residence where a large volume of petroleum products were found, is very close to NNPC depot at Mosinmi, and the alleged vandals claimed to be working with some security operatives and NNPC officials should not be swept under the carpet."
He added that the exhibits recovered from suspects were 1,645 litres of petrol, one long hose, two short hoses, two phones and N75,000.
The female suspect said the gang's customers were people who use the products to power generators, motorcycle riders and motorists. She said their product was cheap and readily available.
In his own statement to the NSCDC, Rahmon Yusuf, said regular supply of the products had been guaranteed by their collaborators.
He said, "Our collaborators are members of a security agency, who sometime connive with some officials of the NNPC. I have been in the business for a long time."
– The Punch