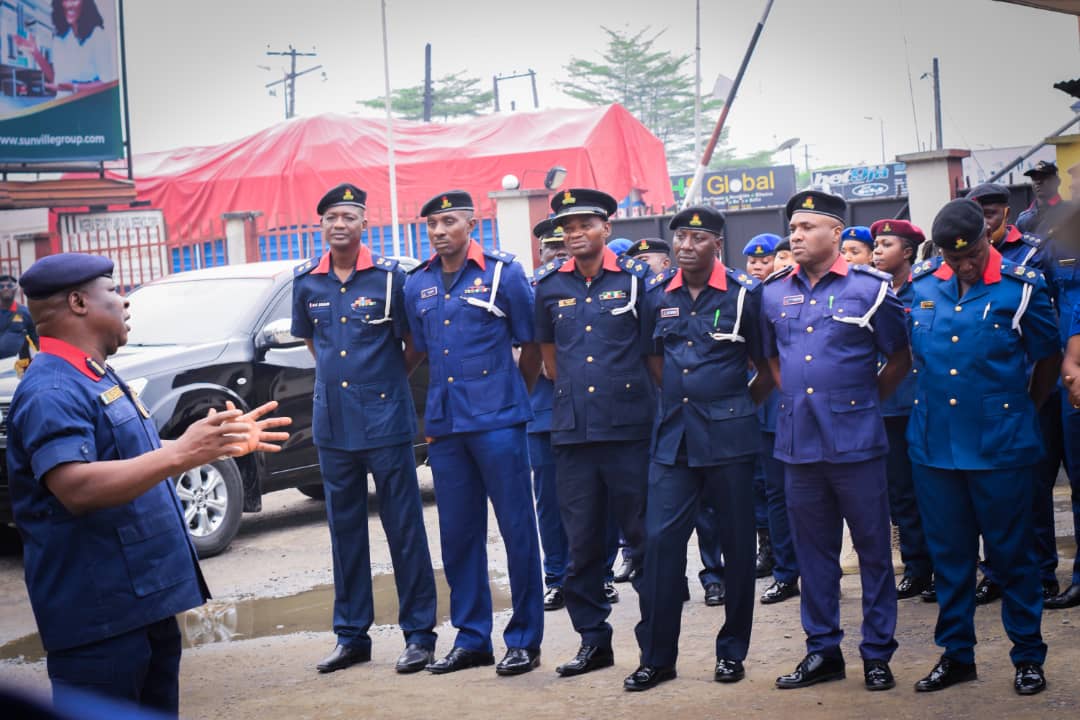 – Deploys 5,255 personnel for 2023 elections in Rivers
Mkpoikana Udoma
Port Harcourt — Ahead of Nigeria's election, which starts with the presidential and National Assembly poll on Saturday, the Nigerian Security and Civil Defence Corps, NSCDC, has reiterated its commitment to protect critical national assets, including oil and gas, power, telecommunications and other facilities.
The Rivers State Commandant of NSCDC, Michael Besong Ogar, said about 105 operational vehicles, four gunboats and special forces from the Intelligence Squad, Counter Terrorism Unit, Chemical Biological Radiological and Nuclear Explosives Unit, Armed and Antivandal Unit of the Command have been fully briefed and deployed.
Ogar during a pre-election media briefing in Port Harcourt, said in line with the directive of the NSCDC Commandant General, Dr Ahmed Abubakar Audi, the Rivers State Command has deployed 5,255 officers and men drawn from the various 23 Local Government Area, departments and units of the Command.
For the anti-vandal unit, the NSCDC boss in Rivers State listed their job description to include, "protection of all critical national assets in Rivers State, including public buildings, oil and gas pipelines, energy and power facility, transportation as well as telecommunication infrastructures; so they are on red alert so that hoodlums will not take any chances during this election.
"We are the lead agency when it comes to protection of national assets.
"For the past six months Rivers State Command has the highest number of arrest of vandals as well as the highest number of convictions and forfeiture to the federal government.
"We also arrest those including in Naira racketeering in Rivers State. We have convicted them last week for selling Naira. We collobaorate with the CBN and we were able to convict them."
N SCDC who assured of adequate security before, during and after the 2023 eeneral election, affirmed that the Command was fully prepared for the Saturday 25th and 11th March 2023, noting that the Corps' preparedness was informed by the determination to remain apolitical, neutral and highly professional while on election duty.
He further hinted that the training and re-training programs organized internally as well as in conjunction with the INEC, and other Sister Security Agencies in the State have been very impactful hence the NSCDC officers and men are well informed on the election operational guidelines, the provisions of the electoral Act 2022, the NSCDC Standard Operating Procedures amongst others.
"With the level of the training programs we have organized for our personnel couple with the Election Security Personnel joint trainings you can be rest assured that there would be effective security coverage in the elections".
The Command helmsman called on critical stakeholders such as party leaders, their supporters, traditional institutions, religious bodies and the general public to consciously make concerted efforts in ensuring that the elections are free, fair and credible in Rivers State.
He urged the voters to remain calm and cast their votes in a peaceful manner shunning all forms of electoral violence as the security agencies would not hesitate to arrest anyone who disrupts the peaceful conduct of the elections.
Follow us on twitter