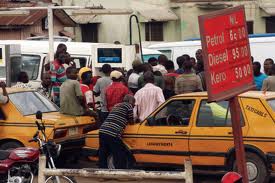 03 July 2013, Lagos – As National Union of Petroleum and Natural Gas Workers, NUPENG, warning strike entered third day, long fuel queues were obstructing the free flow of traffic in some parts of Lagos.
The News Agency of Nigeria, NAN, reports that there was obstruction of traffic, Wednesday, in areas like Falomo, Ikoyi; Victoria Island and Iponri as a result of long queues of motorists in fuel stations.
The situation was, however, normal in Surulere, Mushin, Ojota, Onipanu, Orile, Ojuelegba, Ikeja, Oshodi and Fadeyi.
NAN reports that few filling stations were, however, not selling the petroleum products.
Some motorists who spoke with NAN appealed to the Federal Government to immediately step in to address the situation before it became unbearable.
At Falomo in Ikoyi, only Oando and FO Filling Stations were selling out of the six filling stations in the area.
Mr Wale Esan, a civil servant, said that it was a shame that the government allowed the issue to degenerate into the strike.
"Government should dialogue with relevant agencies that are concerned because the situation is getting out of hand gradually," he said.
Esan said that he had been on queue for almost two hours and described the situation as a set-back to government's transformation agenda in the oil and gas sector.
The situation was different at the Oando Filling Station, Ojuelegba, where there was no long queue of vehicles.
Mr Seyi Awodele, a taxi driver, said that he was lucky to have filled his car having heard about the strike on Sunday evening.
Awodele, however, urged the government to immediately resolve the problem, saying that the situation might be worse on Wednesday.
The Chairman, South West Chapter of NUPENG, Alhaji Tokunbo Korodo, told NAN that the union had a meeting with the Minister of Labour, Mr Emeka Wogu, till 1 a.m. on Tuesday.
Korodo said that the minister had set up a committee to look into the unfair treatment of Nigerian workers by some oil companies and some other issues.
He said that the committee included the permanent secretaries in both the Ministry of Petroleum Resources and the Ministry of Labour; NUPENG and NNPC officials.
Korodo, however, said that the three-day warning strike would still continue, adding that government should have averted it when the 14-day ultimatum was given.