25 August 2018, London — Exploration and production (E&P) companies have benefitted from the rise in crude prices, but the oilfield services and equipment (OFSE) sector has yet to see the same level of profit, according to an August report by AlixPartners.
Since 4Q 2016, integrated majors have been reaping the most benefits from areas such as cost-cutting, the quality, and productivity of their asset base and long-cycle project payoffs. Independents have also seen strong profits.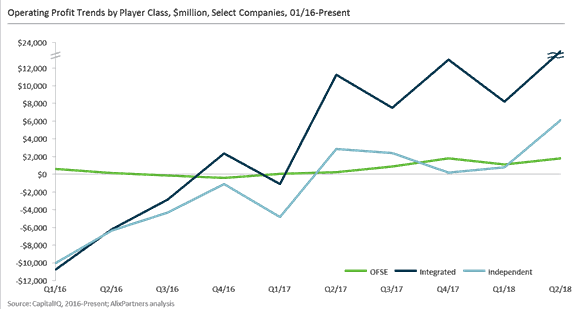 But profits remain roughly flat for the OFSE sector and investors have taken note. Returns to shareholders from integrated and E&P companies have greatly surpassed those from the OFSE sector, report authors said.
The report states six factors that allow for E&P and integrated companies to see more profits than OFSE companies. They are:
Supply chain management
Improving product design
Continued offshore weakness
Vertical integration in industry
Concentration of activity
Oversupply
While OFSE profits will likely catch up in the medium term as oilfield capacity becomes more balanced with E&P demand, companies delivering differentiated returns will be able to deploy certain strategies.
One strategy the report mentions is efficient labor management by tracking daily employee time, monitoring overtime, comparing efficiency across crews and balancing full-time and temporary labor. Crews could also be paid based on performance.
"Companies that have the right metrics and targets in place, combined with uncapped bonus structures, could become the preferred employers for top oilfield talent," report authors said.
Another strategy companies can implement is digitalization. This can come in many forms: improving safety by improving the use of sensors on pumps, drilling rigs, etc.; crews using smart devices to reduce paper-based invoicing; and applying similar algorithms from automated drilling rigs for completion and well service equipment.
*Valerie Jones – Rigzone