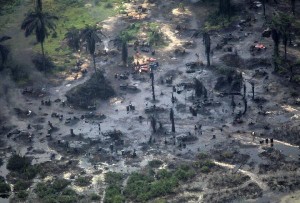 Mkpoikana Udoma  24 August 2014, Sweetcrude, Port Harcourt – The Rivers State Government has hinted that the Federal Government will soon begin the implementation of the United Nations Environmental Assessment Reports on Ogoniland.
The State Commissioner of Environment, Dr. Nyema Weli, dropped the hint in Bera Community, Gokana Local Government of Rivers State at the grand finale of the campaign against crude oil theft and illegal refining.
Dr. Weli, who was represented at the event by a director in the ministry, Mr. Charles George, sought the co-operation of the Ogonis in the implementation of the UNEP reports.
"Having seen the high level of pollution, the government through the UNEP Reports will be coming around the next 2 or 3 months to clean up the area. So we are using this opportunity to call on people again support the government when they come to clean up this area. All what they need from you is your support" he said.
He also warned the people of Ogoni against acts capable of further polluting their environment.
Earlier, the Rivers State Chairman of the Nigerian Environmental Society, Dr. Prince Chinedu Mmom intimated the people on the long-term effects on the consequences of crude oil theft and illegal refining, which he said was "eternal".
In his words, "we do not know what we lose as consequence of these crude oil theft and illegal activities. These illegal activities of breaking the pipelines with the intention of stealing crude oil, these illegal activities of bursting the pipelines because the boys are hungry, these illegal activities they of breaking the pipelines so that the companies (IOCs) will lose.
"For Godsake, what the companies will lose is just money, but what the community will lose remains eternal. Scientists have told us that when oil spillage occurs, for that soil to be brought to its original state (which is very impossible) or something near the original state will take over 20years. So you can imagine what you have made out of the business of destroying your community".