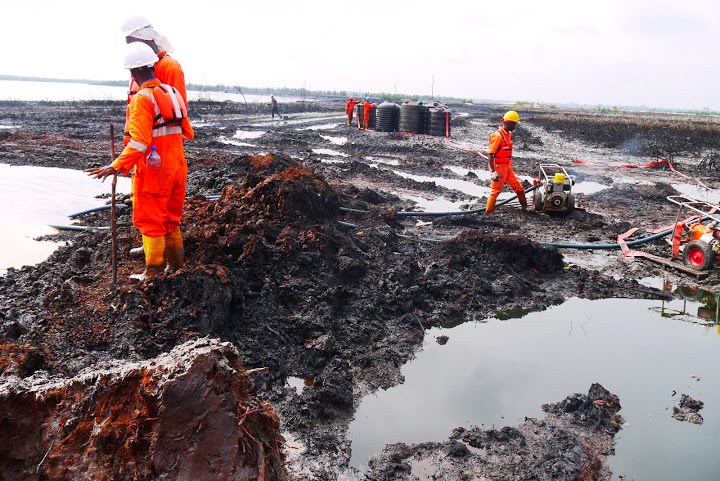 Mkpoikana Udoma
20 October 2018, Sweetcrude, Port Harcourt — A youth group in Rivers State known as Ogoni Youth Federation, has demanded a Supplementary Environmental Impact Assessment of Ogoniland to cover areas and communities not captured in the report by the United Nations Environment Programme, UNEP, in 2011.
President of the group, Mr. Legborsi Yaamabana, said the additional environmental impact assessment will help ascertain the current state of Ogoni environment especially in the face of the increase in illegal bunkering and refining of crude oil in Ogoniland.
Yaamabana described as lackadaisical, the attitude of Federal Government, oil multinationals and the Hydrocarbon Pollution Remediation Project, HYPREP, towards the commencement of remediation of oil-impacted sites in Ogoniland and other recommendations in the UNEP Report.
He explained that the people Ogoni were going through untold hardship as a result of the damages done to their environment, and called on Shell Petroleum Development Company, SPDC, to pay reparations and adequate compensation to displaced Ogoni farmers and fishermen.
The youth leader also called on the federal government and Shell to provide potable water for Ogoni people as well as include Ogoni youths in its scholarship programmes and empowerment policies.
According to him, "it is regrettable that the clean-up of the Ogoni environment has remained a mirage, as no concrete or positive impact has been recorded in the remediation effort.
"It is quite disappointing that the government has decided to play politics with the Ogoni clean-up."
He explained that the group was not against a resumption of oil exploration activities in Ogoniland, but that any company coming for Ogoni's OML11 must enter into due consultation with all relevant stakeholders in Ogoni, including the youths.
The Ogoni youth leader lamented that the decades of Shell's operation in Ogoni brought misery and hardship to the people.
"The people of Ogoni have learned a lot from Shell, any company coming into Ogoni must have a track record in the social contract, community participation, and competence in the industry.
"The Ogonis have suffered a lot and must be allowed to have a stake in the management of their resources through community participation and ownership," he said.
Follow us on twitter