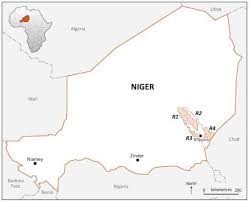 08 June 2018, News Wires — Savannah Petroleum plc, a British independent oil and gas company focused on oil and gas activities in Niger and Nigeria, has announced that the Niger Amdigh-1 exploration well has discovered oil.
Preliminary results based on the interpretation of the available data set indicate that the well has encountered a total estimated 72 feet of net oil bearing reservoir sandstones in the E1 and E2 reservoir units within the primary Eocene Sokor Alternances objective, according to Savannah.
The company said wireline logs indicate the reservoir properties to be "good to excellent quality" and revealed that the available pressure data indicates light oil. Drilled by the GW 215 rig to a total measured depth of 8,100 feet, the well took a total of 24 days to reach target depth. No significant geological or drilling hazards were encountered.
Amdigh-1 is currently being suspended for future re-entry. A production test is expected to be performed on the well as part of a batch campaign using a dedicated test rig once the results of the remaining exploration well in the current drilling campaign, Kunama-1, are available, Savannah confirmed.
The company does not expect to provide a discovered resource and volumes report until its expected well test program has been completed. GW 215 will now mobilize to the Kunama-1 well site, located 7 miles from Amdigh-1, where it will prepare to spud the Kunama-1 exploration well. The move is anticipated to take between 10 and 15 days.
"Amdigh is a significant discovery for Savannah, which I believe, alongside Bushiya, has the potential to underpin a future R3 East development hub," Steve Jenkins, chairman of Savannah Petroleum, said in a company statement.
"The well further validates Savannah's original thesis for entering the ARB [Agadem Rift Basin], being that significant portions of the company's acreage have similar geology to that of the neighbouring Agadem PSC area, which has proven so prolific for the joint venture partnership led by China National Petroleum Corporation," he added.
"I firmly believe that all of the necessary ingredients for repeatable exploration success exist in our project areas. Given the extensive prospects and leads inventory we have in the wider R3 license area and in our Niger portfolio, we remain encouraged about the potential of our future exploration activities," Jenkins continued.
Amdigh-1 is located on the R3 portion of the R3/R4 PSC Area in the Agadem Rift Basin, in South East Niger.