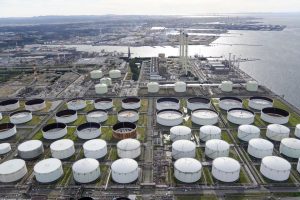 Beijing — Oil prices were very slightly down in Asian morning trade on Friday as bullish sentiment about Chinese demand and potential Middle Eastern supply disruptions was tempered by uncertainty over U.S. economic data on Friday.
Brent futures, which have risen nearly 6% this week, were down 19 cents, or -0.24%, at $79.08 a barrel at 0415 GMT. U.S. West Texas Intermediate (WTI) crude fell by 1 cent, or -0.01%, to $74.36, having gained about 8% this week.
Markets are now waiting for U.S. spending and inflation data on Friday and the resulting impact on the U.S. dollar.
"The market may maintain its rebound if today's U.S. PCE offers positive signals to the markets that US inflation is expected to cool further," said Tina Teng, an analyst at CMC Markets in Auckland.
"Disappointing data may cause concerns about Fed policy again and cap the recent gains," she added.
Prices have ticked up this week over optimism surrounding China's economic recovery. China's manufacturing activity rose in March at a slower pace compared with a record-breaking expansion in February, but still exceeded expectations by economists in a Reuters poll.
Industrial activity in China has become a key determinant of prices in recent weeks after its ending of coronavirus-related restrictions, amid weaker global demand.
Oil prices are set to cap a second straight week of gains after the largest bank failure after the 2008 financial crisis spooked traders and roiled markets. Worries about a full-blown global banking crisis have abated after two banks, in the U.S. and Europe, were rescued.
Prices rose more than 1% on Thursday because of lower U.S. crude stockpiles and a halt to exports from Iraq's Kurdistan region, offseting pressure from a smaller-than-expected cut to Russian supplies.
Producers have shut in or reduced output at several oilfields in the semi-autonomous Kurdistan region of northern Iraq following a halt to the northern export pipeline. More outages are on the horizon.
The U.S. Energy Information Administration said U.S. crude oil stockpiles fell unexpectedly in the week to March 24 to a two-year low.
*Sudarshan Varadhan & Andrew Hayley; Editing: Muralikumar Anantharaman & Gerry Doyle – Reuters