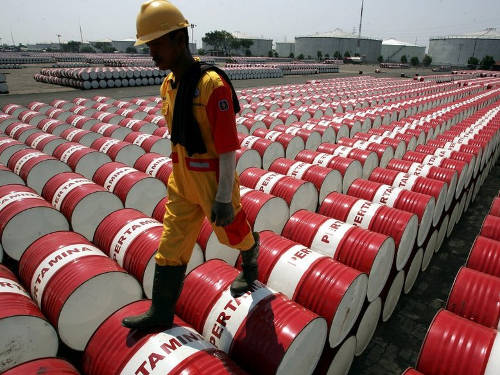 – U.S. consumer price index figures for April show high inflation

London — Oil prices fell on Wednesday, ending a three-day rally as an unexpected rise in U.S. oil inventories sparked demand concerns and inflation data suggested U.S. interest rates would remain elevated.
Brent crude dropped 60 cents, or 0.7%, to $76.84 a barrel by 1335 GMT while U.S. West Texas Intermediate (WTI) crude fell 69 cents, or 0.9%, to $73.02.
In a possible sign of weakening demand, U.S. crude inventories rose by about 3.6 million barrels in the week ended May 5 while gasoline stockpiles rose by 399,000 barrels, the American Petroleum Institute was reported as saying by market sources on Tuesday.
The data defied expectations from eight analysts polled by Reuters for a drawdown of 900,000 barrels of crude and a 1.2 million barrel drop in gasoline stocks. U.S. government data on oil inventories is due on Wednesday.
The surprising U.S. inventory build along with lower crude imports and April's softer export growth in China exacerbated worries about global oil demand.
U.S. consumer prices rose in April, data released on Wednesday showed, potentially raising the likelihood that the Federal Reserve will maintain higher interest rates for the time being.
New York Fed President John Williams previously said inflation remains too high and the central bank will raise rates again if necessary, even though the Federal Reserve dropped guidance about the need for future hikes.
The market is also awaiting the monthly oil report from the Organization of the Petroleum Exporting Countries (OPEC) on Thursday for clues on whether the group and its allies will need to cut output again to prop up prices.
OPEC and its allies, together known as OPEC+, agreed last month to cut production by 1.16 million barrels per day (bpd) from May through to the end of the year and is due to hold another policy meeting on June 4.
"Traders are not of the view that OPEC+ output cuts fully offset the difficulties that lie ahead for the global economy," said Craig Erlam, senior market analyst at OANDA.
"Further action by (OPEC+) or calmer conditions in U.S. banks could see oil prices bounce back once more."
Meanwhile, markets were monitoring U.S. President Joe Biden and top Republican lawmakers' comments on raising the $31.4 trillion U.S. debt ceiling, fearing an unprecedented default if Congress does not act in the next three weeks.
*Stephanie Kelly; Editing: Sonali Paul – Reuters
Follow us on twitter