*Production hits low ebb *NNPC slashes JV expenditure
*Oil services firms bemoan low business
Chuks Isiwu 18 February 2015, Sweetcrude, Lagos – It is the season of budget cuts in the global oil and gas industry as exploration and producing companies devise measures to negotiate the fiscal uncertainties presented by the plunge in crude oil prices.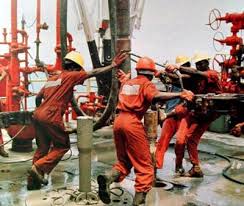 SweetcrudeReports investigations in the Nigerian oil and gas sector showed that management of the leading companies in the industry are bemoaning the fate of proposed projects, in the face of reduction in capital expenditure budgets as announced recently by their parent international oil companies.
It is estimated that all together, around the world, 35 offshore and oil sand projects would be affected by the latest development, and Nigeria is expected to have a fair share of this.
According to our investigations also, workers in most of the companies operating in Nigeria are fearing for the security of their jobs as the current low oil prices and the resultant budget cuts have put additional pressure on the local industry, where a near absence of exploration and a significant drop in production activities had since last year forced many companies into laying off employees.
Season of budget cuts
The Royal Dutch Shell announced last week a reduction of potential capital investment by over $15 billion in the next three years due to the declining crude oil prices. Besides, the company has recorded an eight per cent drop in yearly net profits and said it would accelerate spending cuts.
"Shell is considering further reductions to capital spending should the evolving market outlook warrant that step," the company said in its recently released full year 2014 update. It stressed that it would continue to defer spending in many areas, without compromising on Health Safety Security and Environment, HSSE, exiting selective growth positions, and driving costs down in the supply chain.
The French oil giant Total is shedding 10% from its 2015 capital budget of $26 billion. Its exploration budget will be hit with a 30% cut to less than $2 billion.
"We are all rediscovering that oil is a volatile commodity. We have to react, but not overreact. A major company like Total has always been successful when we manage to maintain our base strategy for these types of low prices.
"The best way to face this volatility is to have the company strong enough to lower your cash break-even," said Patrick Pouyanne, the company's chief executive officer, who succeeded the late chief executive officer, Christophe de Margerie, last year.
Chevron Corporation's recently announced $35 billion capital and exploratory investment programme for 2015 is 13 per cent lower than total investments for 2014.
ConocoPhillips, the largest US exploration and production company, plans a much steeper 33 per cent cut in its capital spending this year to $11.5 billion, $2 billion less than it had suggested in its previous guidance issued only last month.
As part of its own survival strategy, BP said it is cutting 300 staff and contractor jobs from its 3,500-strong North Sea business and freezing salaries across the company in an attempt to cut costs. It has also sold down its equity interests in two massive Gulf of Mexico oilfields.
On its part, ExxonMobil Corporation is yet to unveil its 2015 capital expenditure plan, which it said would be released on March 4, but there are indications that this would witness a reduction from last year's budget. Already, the company has revealed it would slash its share buyback programme in the first quarter of this year by more than half to $1 billion.
Implications for Nigeria
Of the oil companies cited above, Shell, Total, Chevron and ExxonMobil maintain significant operations in Nigeria and are currently pursuing key projects in the country. These projects include Bonga South-West and North-West by Shell, ExxonMobil's Erha North Phase 2 and Phase 2 of the Satellite field development, Total's Egina and Ukot oil fields and Oberan deepwater field by Eni (Agip). Also included are the multi-billion Nsikko project and the Funiwa gas project belonging to Chevron, as well as the Brass and Olokola liquefied natural gas, LNG, projects, to mention a few.
Some of these projects have been in the pipeline for more than five years, suffering delayed take off while others are still awaiting approval, due to what observers described as the Nigerian National Petroleum Corporation, NNPC's, apathy towards the very important projects.
Industry analysts said the international oil companies' expenditure cut could now result in delay, suspension or outright abandonment of some of these projects. But, it is not clear which would be affected.
Indeed, the Group Managing Director of the Nigerian National Petroleum Corporation, NNPC, Dr. Joseph Darwa, has confirmed that some projects in Nigeria would be affected by the decline in oil prices and budget slash by the IOCs, without being specific. "A number of deepwater projects may suffer delays or cancellation, including one in Angola, three in Nigeria and one in Ghana; while in shallow waters, two projects in Angola, one in Nigeria and two in Ghana may suffer delays," Darwa said.
Also, according to the NNPC GMD, the oil price decline and budget cuts "will result in delays in the development of otherwise economic viable projects".
"Many analyst are of the view that at this level, 80 percent of North America light tight oil wells will still be in the money at $80 per barrel, but that cash flow concerns might reduce spending in the medium time.
"Meanwhile, some project may still be viable at $50 dollar per barrel, however delays in major projects will be a feature in many companies' plans and programmes especially for larger offshore and oil projects as companies try to balance cash flow projects," Darwa stated.
While it is still not certain which projects could be affected in Nigeria, the South African company, SacOil, says it was planning the cancellation of an agreement to participate in an appraisal asset in Nigeria.
NNPC also cuts expenditure budget
Just as the IOCs are scaling down expenditure in view of the oil price situation, SweetcrudeReports gathered that the decline in oil prices has forced the Nigerian government, in a joint venture, JV, with the IOCs through the NNPC, to cut total expenditure in the form of cash call to the JVs. It slashed its capital budget for the JV operations to $8 billion, a 40 per cent drop in the year's proposed budget, according to Platts.
Platts reported, quoting an NNPC source: "The NNPC has informed the joint venture partners that this year's capital expenditures will be cut down by 40 per cent from the initial proposed budget of $13.5 billion.
"The $13.5 billion has been the level that has been maintained in the past three years, but because of the drastic decline in oil prices, that level cannot be sustained this year".
NNPC did not comment officially. Under Nigeria's joint venture arrangement with the IOCs, NNPC contributes about 60 per cent of the funding requirement while the foreign firms provide the 40 per cent balance.
Initially, the Nigerian government had proposed N1.22 trillion ($7.5 billion) to fund its share of the oil joint venture operations this year, with the foreign oil firms expected to provide the balance of $6 billion.
"But since this budget was agreed in the last quarter of 2014, there have been drastic changes in the parameters considered by the partners," another NNPC source said.
"Oil prices have fallen sharply to around $40 per barrel from $80 per barrel when the joint venture budget was prepared, while general growth in the Nigerian economy has declined below 6 per cent from 6.3 per cent," the source said.
Platts confirmed officials of the IOCs' confirmation of receiving NNPC's directives on the budget cut.
"Even though the directive is for joint venture operations, it is generally expected. Oil companies have themselves been revising down their budgets in the light of the oil price slump," an official said.
Job fears
There is currently palpable fears of fresh job losses in the industry resulting from the current budget cuts. At one of the major IOCs, which began a massive lay off of staff in Nigeria last year, workers are bracing for further job cuts. The company sacked thousands of workers last year, including over a thousand sent home only in December.
"As I am sitting here, if I tell you I am not in fear, then I am joking. We are living with the fear of losing our jobs all the time. In fact, there are threats and rumours every day.
"The effect of the price slump is serious. Our tanks are full and there are no shipments because the low oil prices means nobody is buying the crude. Production is not going on any more. This I can confirm to you, and that's the situation," a worried worker with the leading oil exploration and producing company told SweetcrudeReports.
Heat for oil services firms
Engr. Uche Ejiogu, the Field Manager at Port Harcourt-based Segofs Energy Services Limited – an oil services company, alluded to the fact that oil production was virtually not on-going in the country as he maintained that the situation has hit oil servicing companies.
He said most oil exploration and producing companies were inactive at the moment, adding that this situation "has inadvertently rendered oil servicing companies jobless", with most of the services companies now dependent on marginal oil field operators for survival.
The field manager, whose company specialises in directional drilling, bore hole surveying and drilling tools rentals, added: "We (oil servicing companies) are really affected, because the drop in oil price means that there is no need drilling ahead and or carrying out drilling operations. It is really affecting us because we are not operating on our own; we operate only when the exploration and producing companies bid us. but right now in this period when you are not making profits, there is no need drilling more.
"And I don't know how long this is going to continue, because most of the oil services companies are really financially strapped right now and for that, they are retrenching workers".
"We are directly affected, because when the oil exploration and producing companies are producing and not selling, why would they produce more? Drilling more wells means producing more oil. If a company does not have enough money to optimise its revenue, how will the company stay in business. So all service companies are directly affected as equally as the producing companies".