– To make P/Harcourt an export city with functional seaport
Mkpoikana Udoma
Port Harcourt — The Presidential Candidate of the Labour Party, Mr Peter Obi, has said that the crude oil and gas resources in the Niger Delta will be used in the development of the region, when elected to lead the country in 2023.
Obi also pledged to make Port Harcourt the export city of the country, since the oldest and the biggest seaport in the country were situated in Rivers State.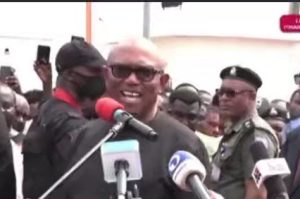 The former Anambra State governor disclosed these while commissioning the Nkpolu-Oroworukwo flyover built by Governor Nyesom Wike in Port Harcourt.
According to him, the problem of Nigeria was lack of production.
He assured that he will make the vast arable land in the North to be the next crude oil through agriculture, while the East will be a manufacturing hub, the West the financial house and the South, an export zone.
"If I have the opportunity of serving this country. The people of Rivers State and the Niger Delta will forever be grateful to me because I will change the region.
"The crude oil and gas that is gotten from the Niger Delta will be seen through development of the region.
"I have what it takes to turn around this country. I will not give excuses. I know the problem of Nigeria and I have what it takes to change the country.
"The problem is that Nigeria is not productive.
Rivers State has the biggest seaport in the country at the federal ocean terminal. That seaport alone can give Nigeria a reasonable revenue.
I will give a future to every part of the country. The vast land in the north is our next oil. The The Southwest will be our finance house and the Southeast will be our manufacturing hub, while we route the East to Rivers State for exportation of our manufacture goods, so Port Harcourt will remain the export city of this country; we will do it."
Earlier, Rivers State Governor, Nyesom Wike applauded Mr Peter Obi, describing him as a humble man who has all the criteria and capacity to lead the country.
Follow us on twitter