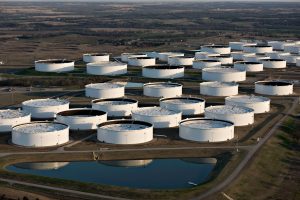 Washington — Oil prices slipped in Asian trade on Friday but were on track for a fifth straight week of gains following strong economic data in the U.S., and on speculation over Chinese stimulus measures and OPEC+ output cuts.
Brent crude fell 29 cents, or 0.3%, to $83.95 a barrel by 0600 GMT, but was on track for a weekly 3.6% increase. U.S. West Texas Intermediate (WTI) crude fell 27 cents, or 0.3%, to $79.82 a barrel, but were heading for a 3.6% weekly increase.
Oil rose in the previous session as strong earnings reports and data showing the U.S. economy grew faster than expected in the second quarter eased fears of a global slowdown.
U.S. second quarter gross domestic product grew at 2.4%, beating the 1.8% consensus, the Commerce Department said Thursday, supporting Federal Reserve Chairman Jerome Powell's view that the economy can achieve a so-called "soft landing."
The prospect of further Chinese stimulus measures, particularly in the embattled property sector, has also provided some support to prices, following a meeting of the Politburo – a top decision-making body – on Tuesday.
"Recent US 2Q GDP numbers and other economic data (provide) further validation for soft landing hopes and (paint) a much brighter demand outlook for oil," said Jun Rong Yeap, a market strategist at IG in Singapore.
Markets are also looking to the next market monitoring committee meeting of the Organization of the Petroleum Exporting Countries and allies, together called OPEC+, on Aug. 4 for announcements on the continuation of voluntary output cuts.
"We continue to see upside to oil prices through 3Q23, and expect pricing sustained above US$90/bbl (Brent) would likely be required to see a loosening in OPEC or Saudi Arabia's voluntary crude supply cuts," said Baden Moore, head of commodity and carbon strategy at National Australia Bank.
However, recent interest rate increases from global central banks seeking to tame stubborn inflation have nonetheless raised questions about long term demand.
On Wednesday, the U.S. Federal Reserve implemented another 25 basis point interest rate hike as widely expected, and the European Central Bank followed suit on Thursday.
"It does seems like oil prices are facing some pressure from the broader risk environment," said IG's Yeap, commenting on recent speculation around monetary policy moves.
Earlier this week oil fell after data showed U.S. crude inventories fell less than expected.
"We are still not seeing much translation to increased product demand especially within the distillates that have been providing much of the upside lead of the past month," said Jim Ritterbusch, president of Ritterbusch and Associates LLC in Galena, Illinois.
*Laura Sanicola & Andrew Hayley; editing: Lincoln Feast & Sonali Paul – Reuters
Follow us on twitter