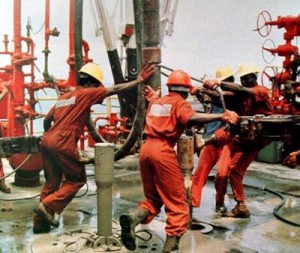 13 April 2014, Abuja – A traditional ruler and delegate at the ongoing National Conference, the Lamido of Adamawa, Alhaji Muhammadu Aliyu Mustapha has explained that his reason for advocating that the oil producing states should control their oil wealth was because the oil states see the north as a beggar region.
Speaking in an interview with the Hausa service of the British Broadcasting Service (BBC), monitored in Kaduna yesterday, the traditional ruler maintained that the oil producing states were threatening other parts of the country as if they cannot survive without oil money.
"These people who come from oil producing states are looking at us as if we are beggars, gold diggers who have nothing to do. That is why I said the non oil producing states are not cowards, they don't fear anybody. Everybody is contributing his quota to make Nigeria great, but these people from oil producing states think that if what they want is not given to them, they would even prefer to stay out of Nigeria.
"That is why I said, we too…even the expanse of land is a natural endowment. I said if that is the case we have agreed they should go with their oil money,100 per cent and the other part of the country, all the non oil producing states in Nigeria not only the Northern states, there are non oil producing states in the Southwest and in the Southeast, who are  blessed with land should keep our land," he said.
He said some delegates at the conference were so arrogant and speak authoritatively as if they were more Nigerians than others, insisting that he will continue to speak his mind and the truth.
"They want to turn the North as if we are beggars or Almajiri who have nothing to do. That's the reason why I spoke. I told them that mine is a warning to the  people because from the way we were going, the confab will disperse without achieving anything and if we didn't do anything many things will happen  including the disintegration of Nigeria.
"But I said God forbid. I said if Nigeria disintegrates, those people shouting at this conference as if the whole world will break, will have nowhere to go, but I and the people of Adamawa, and some other people in Nigeria, have where to go.
"I also explained to them that  my kingdom, stretches to three countries…Nigeria, Cameroun and Chad. In all these countries, whichever one I go to, I will get into these countries and nobody will look at me as a stranger  and I will remain there comfortably. So it was a warning that I have sounded to the people", he said.
– This Day