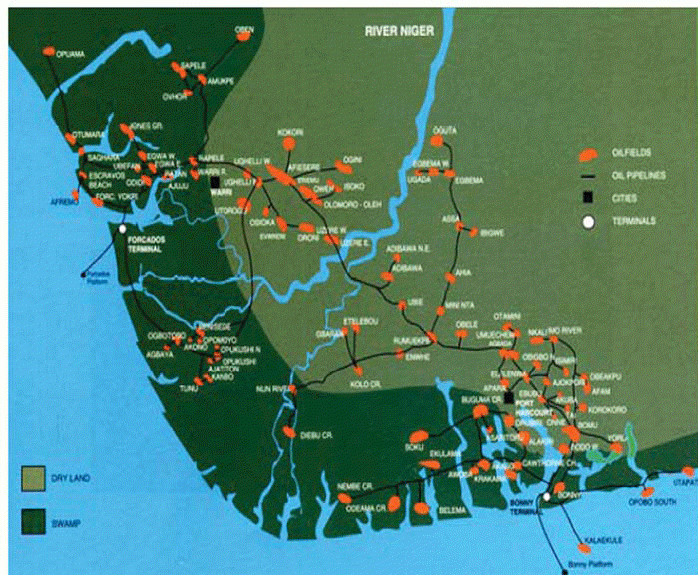 OpeOluwani Akintayo
08 April 2018, Sweetcrude, Lagos — Nigeria recorded 8.3 percent real growth of the oil sector in the fourth quarter, 2017, statistics from the Nigerian Bureau of Statistics, NBS has shown.
According to NBS, the 8.38 percent represents an incline of 26.08 percent relative to rate recorded in the corresponding quarter of 2016.
Growth in the sector reduced by -17.50% when compared to Q3 2017 which was 25.89 percent.
Growth in the global oil sector contributed to pulling Nigeria's economy out of recession in Q2 Nigeria plunged into recession in 2015 as a result of a crash of oil prices from $100 per barrel to below $30/b.
Oil prices which rose to $71/b in January have since dropped to $67.11/b as at Friday, April 6.
When the country exited recession, oil sector growth was 3.5% while the non-oil economy grew a puny 0.45%.
In Q3, the non-oil economy went back into contraction with negative -0.76% growth, but the overall economy was lifted by oil sector growth of 25.89%; and in Q4 the oil sector grew by 8.38%, while non-oil expanded by 1.45%.
Meanwhile, the electricity and gas production grew by 16.03 percent in Q4 2017 compared to 11.46 percent in Q3 2017 and a contraction of -5.16 percent in Q4 2016.
So far, electricity production has played a bit steady since this year, with a daily output of over 4000 megawatts.
As at Tuesday which was the last update by the Transmission Company of Nigeria, TCN, electricity generation by the generating companies was pegged at 4477.8MW at peak period and 4005.6 at lowest generation.
Nigeria's gas production reached seven billion cubic feet per day (cf/d) as at October 2017.
According to Group Managing Director, the Nigerian National Petroleum Corporation, Dr. Maikanti Baru, 1.2 billion cf/d of the total production is used for domestic purposes, like powering of plants and industries.
Baru added that 3.3 billion cf/d is exported by the Nigerian Liquefied Natural Gas, NLNG, while 2.7 billion cf/d is re-injected into operations.
The country still flares 10 percent of the total gas production, which is about 0.75 billion cf/d.