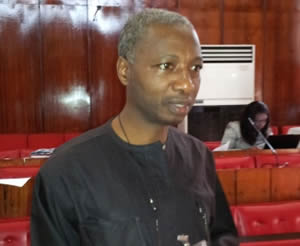 16 November 2014, Lagos – The Director of Petroleum Resources (DPR), Mr. George Osahan has revealed that operators in both the upstream and downstream sectors of the oil and gas industry owe the Federal Government $5billion royalties as at the end of the third quarter of 2014.
The DPR boss who spoke at a panel held in Lagos yesterday said that the debt is an impediment that has hampered the agency from doing its job of regulation the operation of Nigeria oil and gas industry.
Osahan said that DPR will not circumvent the laws of the land to please those who have formed the habit of violating it. Rather, the agency will look for the best method to do oil and gas business to the benefit of all the stakeholders.
He observed that some Nigerians find it difficult to obey the law, and instead those who flout the law when confronted, usually rush to Abuja to see the Presidency or the Minister of Petroleum Resources to report those who raised the matter.
He noted that some investors have approached DPR to move gas from Lagos to Ibafon, from Warri to Enugu, Kano to Kaduna to energize industries in those areas. He added that the prospective investors have to follow the guidelines for their investment aspirations to mature. "We don't have to disobey the law, rather we have to apply it to strike a balance and level playing ground for the stakeholders," he noted.
Mr.Gbite Adeniyi a former Senior Consultant at the World Bank Oil and Gas ,Chemicals and Mining in his contribution, noted Nigeria in the past 10 years was unable to enact a good piece of legislation to boost the development of oil and gas sector.
He called for the independence of the regulatory arm of the petroleum industry to avoid people going to Abuja to seek for exemption that hampers development.
*Anayo Korie – Daily Independent