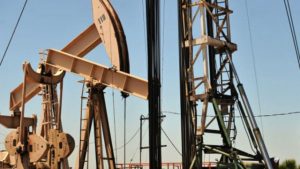 16 August 2018, New York — Oil rose slightly as global markets steadied on Thursday, recovering some of the previous day's 2 percent slide, though a weakening outlook for crude demand kept prices in check.
The oil market had felt the effects on Wednesday of a large build in U.S. inventories that added to concern over the outlook for fuel demand, while crude was also swept lower by broader selling of industrial commodities such as copper.
"There's still an overhang from the report yesterday," said John Kilduff, a partner at Again Capital Management in New York. Surging imports that boosted inventories despite high refinery run rates weighed on the market, he said.
China and the United States have implemented several rounds of tit-for-tat trade tariffs and threatened further duties on exports worth hundreds of billions of dollars, which could knock global economic growth.
The crisis gripping the Turkish lira, meanwhile, has rattled other emerging markets and reverberated across equities, bonds and raw materials.
Brent crude oil futures were up 43 cents at $71.19 a barrel by 11:35 a.m. EDT (1535 GMT), while U.S. crude futures rose 44 cents to $65.45.
U.S. crude had earlier hovered around its 200-day moving average of $65.18 a barrel, an important technical benchmark. Moving below that level could trigger a further surge downward.
"The growth story is now more or less a U.S. growth story. The rest of the world isn't playing along any longer," said Saxo Bank commodities strategist Ole Hansen.
"It also really reflects how the theme in the commodities market has so quickly changed from being one where the worry was about supply, with Iran sanctions for oil or Chilean (miner) strikes for copper, and now the focus is on demand."
Brent crude futures are resting on the 200-day moving average, a key technical level, for the first time in a year. Analysts say a break below this point could trigger another swift sell-off.
"In Brent, we trace a first support at $71.00 followed by the 200-day moving average at $70.23 and $70.00," Petromatrix analyst Olivier Jakob said.
On the supply front, U.S. data on Wednesday showed crude output C-OUT-T-EIA rose by 100,000 barrels per day (bpd) to 10.9 million bpd in the week ending Aug. 10. Crude inventories increased by 6.8 million barrels, representing the largest weekly rise since March last year.
"As the end of the summer driving season approaches, crude oil processing is likely to have peaked and should decrease from now on. Net crude oil imports therefore need to decline steeply so that crude oil stocks do not rise any further," Commerzbank said in a note.
While supply rises in the United States, Asian markets are showing signs of slowdown as trade disputes and a stronger dollar drag on the economies of some of the world's largest oil buyers.
Providing some support for Brent crude were looming U.S. sanctions against Iran's oil exports, set to start from November. Iran's biggest customers, such as India, South Korea and Japan, are already scaling back orders.