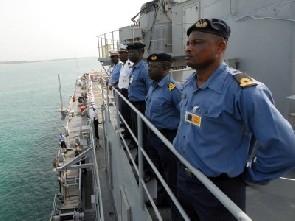 24 September 2014, Lagos – Before April 2013, when President Goodluck Jonathan declared a state of emergency in the North East states of Adamawa, Yobe and Borno because of the escalation of the Boko Haram insurgency, other criminal activities like illegal bunkering, oil thievery, piracy and pipeline vandalism were ignored or received less attention. Consequently, the nation has been the worse for it in terms of poor revenue outlay.
Incidentally, the Nigerian Navy whose primary duty it is to safeguard the nation's revenue generation base, got involved in the battle against Boko Haram terrorism with many of its ratings and officers deployed to fight the monstrous insurgency, thereby reducing the impact the force would have had in fighting maritime crooks.
It is against this background that a recent mandate from President Goodluck Jonathan to turn the tide in the fortunes of Nigeria's exclusive economic zone being run aground by oil theft and massive thievery, has resulted in the Navy intensifying efforts at fighting all forms of illegal activities in Nigeria's maritime environment.
Towards this end, the Chief of Naval Staff, CNS, came out with a policy direction which defined key deliverables for the Navy with a view to improved maritime security in Nigeria, focusing on short and medium terms.
To achieve this policy thrust, certain focal areas, including elimination of pipeline vandalism, elimination of crude oil theft, illegal bunkering, piracy or sea robbery were spelt out, as well as the establishment of a Fishery Protection Patrol Squadron in collaboration with other stakeholders in the maritime industry.
Maritime environment
The objective, according to Vanguard Features findings, is to bolster the operational capability of the Nigerian Navy towards achieving a safe, secure and enabling maritime environment in line with the transformation agenda of Mr. President. In this light, a credible strategy, the Total Spectrum Maritime Strategy, TSMS, was promulgated to provide an operational framework for the employment of the Navy's fleet in fulfilment of her statutory roles.
It entails a flexible application of naval power over a range of areas and contingencies based on proactive layered responses. It implies giving support to the current drive for joint operations in the Nigerian Armed Forces, with the Navy's desire to operate in synergy with other maritime stakeholders for the peace and security of the region.
It is consequent upon this strategy that the Navy leadership came up with eight developmental objectives with operational time-lines for enhanced operations: through a Maritime Trinity of Actions in the Maritime domain that currently drives all operations in the force.
A major plank of this trinity in the war against maritime crime is the improvement in the use of surveillance capabilities which has subsequently been enhanced with the emplacement of the 10 Regional Maritime Awareness Capability, RMAC, Centres at Badagry, Apapa and Victoria Island in Lagos; Abuja, Formoso, Brass, Yenagoa, Bonny, Ibaka and Calabar.
Through these centres, the Navy has encircled the nation's territorial waters with modern digital security mapping and tracking systems that enables the force locate and intercept illegal operations of saboteurs as well as oil thievery even in remote location of Nigeria's maritime domain.
VF gathered that the Navy has also concluded plans to construct additional centres for layered coverage and that each centre will be equipped with a night navigator camera, radar, a marine radio and an Automatic Identification System, AIS, transceiver, among others.
Contacted, Director of Naval Information, Commodore Kabir Aliyu, confirmed that modalities have been concluded for the new centres, pointing out that the Navy has fully taken over and integrated PICOMSS (Presidential Committee on Maritime Security) sites with the existing RMAC centres, resulting in the total surveillance coverage of Nigeria's 420 nautical miles coastline by the sensor sites. This means the force is now able to detect vessels fitted with AIS when they enter our territorial waters.
VF learnt that these surveillance technology some of which are installed at the Naval Headquarters RMAC Centre, helped in locating the vessels MT NORTE, MT KERELA and MT C RETRIEVER that were hijacked by pirates in Nigeria waters.
The RMAC Centre was also instrumental in vectoring the arrest of 'TUG GARE' on March 27, 2014 for conducting illegal bunkering operations around Brass River entrance.
As regards vessels that have no automatic identification systems fitted onboard but operating within the limits of Nigeria's territorial seas and backwaters, the RMAC system can still detect them with its radar, thus ensuring sea vision for the Nigerian Navy and enhancing its maritime domain awareness.
At this juncture it should be noted that the Maritime Trinity of Actions has other components, including better response initiatives and enforcement actions by other law enforcement agencies. This explains why the Navy has assiduously embarked on these improvements through collaborative efforts for the effective interplay of the maritime trinity of actions.
Regarding its second component, the response initiatives, VF learnt this vital aspect is anchored on serviceable operational platforms, battleships,  trained and ready force. In this light, the Navy has restructured its force with a view to improved naval presence, deterrence, patrols and responses.
Thinking out of the box to achieving its set goals, the Nigeria Navy created a Naval Air Base at Ojo in Lagos, a Naval Air Station at Effurun in Delta State and some coastal observation posts along Nigeria's coastline amongst others. Equally, the force's asset recapitalisation drive has resulted in the acquisition of some Seaward Defence Fighter Boats, SDBs, like the OCEA, Shaldag, Manta and other mix of platforms as well as support facilities to discharge her statutory responsibilities.
The construction of two new Offshore Patrol attack Vessels, OPVs, is near completion in China, and the arrival will greatly boost the Navy's fleet recapitalisation efforts. They are being fitted with latest technology fighting, tracking and deterrent equipment for optimum performance.
It is apt to further disclose that one of the OPVs will be fully built in China, while the other will be completed in Nigeria to ensure that same technology is transferred to the Nigerian Navy.
Further efforts toward ensuring better response initiatives will come in the form of the US Coast Guard ship 'Cutter GALLATIN' becoming a Nigerian Navy vessel, and is expected to arrive in Nigeria later this year while  the Navy on its part is currently building a second 'ANDONI Class SDB' (Sea Defence Boat) at the Naval Dockyard in Lagos.
The third leg in the trinity, which is enforcement, involves the prosecution of culprits. This entails the handing over of suspects arrested by the Nigerian Navy to the appropriate law enforcement agencies vis-a-vis the Nigeria Police Force, EFCC and the NSCDC.
Full wrath of the law
So far in enforcing this mandate, VF gathered that 492 suspects were arrested between January and April 2014 and handed over to the relevant law enforcement agencies for prosecution.
Furthermore, Vice Admiral Jubrin recently threatened to visit the full wrath of the law as contained in the revised armed forces statutes on any officer of the Navy caught conniving with multinational oil companies to defraud the nation through oil theft.
Declaring that oil companies were neck deep in the oil scam taking place in the Niger Delta, the CNS said some oil companies deliberately leave their oil well-heads which should be sealed, uncovered for ulterior motives, saying this is where the crude oil is being siphoned from.
At a no-holds-barred meeting with executives of oil companies in Abuja he said: "I can say without fear of contradiction that some oil companies are deeply involved in these unwholesome acts and this we must address with all seriousness.
"It has become worrisome that we have not been able to check this menace, and that is why it has taken me seven months to summon this meeting. I have decided to stop pointing fingers, but now to mention the names of the companies involved in this oil theft because if the oil wells are properly sealed with the required manifold, it is only an expert that can open it and this crime is denting the image of the country.
"Failure to stop this unwholesome and conniving sabotage would soon result to the Navy arresting and shutting down oil companies whose oil wells are not sealed with manifold, and are still left open," Jibrin warned.
The CNS had also in a meeting with the GMD of NNPC, Joseph Dawha, noted that strategic measures put in place by the Navy has led to crude oil theft reduction in the Niger Delta from 2.6 million barrels to about 900,000 barrels between January and June this year.
Regarding national and international efforts, the navy recognising that globalisation has made it possible for easy movement of goods, services and threats, keyed into workable joint efforts with foreign maritime organisations to ensure seamless connection of all continents by the oceans.
Consequently, the navy leadership posited that any discussion of the force's efforts must as a matter of fact be considered three dimensionally, covering national, regional and international efforts.
Starting with national efforts at countering crude oil theft, statistics obtained reveal that while over the years, the Navy had arrested many vessels involved in oil theft, a total of 54 vessels were arrested in 2013 alone, while between January and August 2014, another 63 vessels were also arrested by the force.
The Navy, in collaboration with Operation Pulo Shield and other security agencies, also continues to sustain the fight against pipeline vandals and crude oil thieves resulting in the destruction of over 509 illegal oil refineries from January to April 2014; 35 barges, 406 big wooden boats and 10,868 units of auxiliary equipment.
These efforts at safeguarding Nigeria's maritime space can further be substantiated as seen statistically between January and April 2014, when about 602 oil tankers successfully loaded a total of 61,584,599 metric tons of crude from Nigeria's maritime domain on behalf of the Federal Government of Nigeria.
Other important tools used in achieving the set developmental goals include a vibrant website, www.cot.navy.mil.ng, that was developed to articulate, share and showcase her efforts to mitigate maritime illegalities, especially those relating to pipeline vandalism, COT, piracy and sea robbery in the Gulf of Guinea.
The website has also enabled the public to convey useful information to the Navy on the activities of vandals, crude oil thieves, pirates and other criminal elements.
Conclusively, maritime and defence watchers are of the belief that despite the contending challenges, the Navy has remained focused in the fight against criminality in Nigeria's maritime space as well as the Gulf of Guinea while limited resources have been harnessed in a judicious and efficient manner to achieve stated deliverables.
– Vanguard