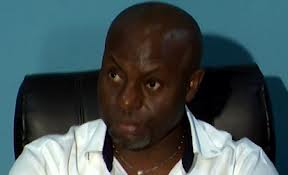 19 June 2013, Port Harcourt – The National Union of Petroleum and Natural Gas Workers, NUPENG, and Petroleum and Natural Gas Senior Staff Association of Nigeria, PENGASSAN, have handed the Federal Government and the Rivers State Governments a seven-day ultimatum to commence work on the deplorable Eleme-Onne link road in the state.
The two unions, which stormed the road to protest its deplorable state, said members cannot continue to waste productive hours on the road because of its deplorable state.
Chairman of NUPENG, Eastern zone, Mr. Godwin Ayuba, said that haulage vehicles were finding it very difficult to ply the road, adding that if the federal and state governments failed to commence work on the road in compliance with the ultimatum, members would be forced to remain at home.
According to him, members of the two oil unions pay so much as tax to the Rivers State Government, stressing that it was not there business who was responsible for the road, as all they want was for same to be fixed.
He said: "There are about 300 companies at the Onne Free trade zone, the Eleme Petrochemical is also affected by the deplorable state of the roads. The biggest refinery in the country is also in the area. Our members pay the highest tax to the state government, yet we spend four to five hours on the road because of the bad state. We are giving the governments seven days ultimatum to commence work on the road. We don't want to know which level of government owns the road. When we go on strike, we will not want to know which level of government will be affected."
– Vanguard