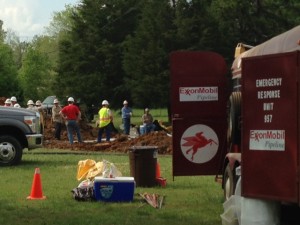 03 May 2013 – ExxonMobil has yet to recover more than half of the heavy oil that spewed from the Pegasus pipeline into a residential area in the US state of Arkansas, according to an accident report from federal regulators.
The US Department of Transportation Pipeline and Hazardous Materials Safety Administration said in a report dated 26 April that of 5000 estimated barrels of oil spilled, only 2000 barrels have been recovered.
The accident report was made public by the Sierra Club, an environmental group which obtained the report through a Freedom of Information request.
On 29 March, the "Conway to Jessieville" section of the ExxonMobil-operated Pegasus line ruptured and dumped oil into private properties and marshland near Lake Conway in Mayflower, Arkansas.
The incident has attracted scrutiny in light of contentious debate over the proposed Keystone XL pipeline, which, like Pegasus, would carry heavy crude produced from the oil sands of Canada to refineries in the US.
The accident report reveals several pieces of information that had not been made public previously, including the costs associated with the clean-up.
ExxonMobil identified the problem around 14:38 local time after detecting a drop in pressure on the 20-inch-diameter line. Response crews arrived on site by 15:20, according to the report. The pipeline was immediately shut in and has remained that way since.
The nearly 70-year-old pipeline was flowing at about 708 pounds per square inch at the time of the rupture. Its maximum operating pressure at the time was 873 psi.
The spill affected fish, birds and terrestrial animals, as well as surface water and soil. A long-term impact assessment has been "performed or planned", the report says.
An estimated 2000 barrels of the heavy oil made it to local waterways including "unnamed ditches and isolated area of the cove south of Lake Conway". ExxonMobil has said no oil made it into the "main body" of the lake, although some local reports have disputed that.
The spill has caused an estimated $16.4 million in property damage, according to the report. That includes $13.6 million for emergency response and $1.3 million for "temporary housing and living expenses for affected residences".
A total of 83 people were evacuated, most of whom have yet to move back into their homes. It could be weeks before some residents are able to return, according to the Unified Command in charge of clean-up. ExxonMobil has raised the possibility of buying the homes of some affected residents.
The supermajor sustained an estimated $1 million in damages to its own property, and lost an additional $500,000 worth of oil, according to the report.
The report provided no known cause of the rupture. The "apparent cause" section is recorded as "other" and "unknown".
ExxonMobil did not immediately respond to a request for comment.
Meanwhile, the supermajor had almost finished cleaning up a much smaller spill from the same pipeline about 200 miles to the north in Missouri. A local resident reported seeing in his yard a discharge of about one barrel of oil. The cause for that spill is also unknown.
*Luke Johnson, Upstreamonline