05 December 2015 – The Organization of Petroleum Exporting Countries has moved to raise its output ceiling, a year after it decided to take on upstart U.S. shale oil producers by keeping output steady and prices low. The latest move is a renewed declaration of war, and reason to disregard analysts' expectations of a Saudi surrender or an OPEC collapse.
In practical terms, the decision to raise the ceiling to 31.5 million barrels a day from 30 million barrels doesn't change much. The organization's member states were pumping more than its self-imposed quota, producing about 31.4 million barrels a day in October, according to its numbers. Yet the lifting of the ceiling caused a sharp drop in the price of Brent crude: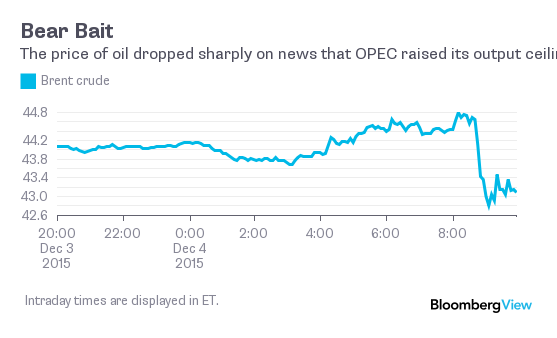 That's because, before Friday's OPEC meeting, Saudi Arabia was perceived by analysts to be softening its stance. A report from Energy Intelligence suggested the kingdom was about to propose a cut of 1 million barrels a day production if non-OPEC producers would cooperate. Other reports focused on the pressure some desperate OPEC members, such as Venezuela, were putting on the Saudis to cut output and help drive up the price.
These signals, however, either were false or irrelevant because, as it tuns out, the Saudis have no choice but to keep pumping, and the same is true of other OPEC members. Most understand this. Those who don't, such as Venezuela and Ecuador, will just have to lump it — and plumb the depths of economic collapse to which cheap oil can send them.
There has been much talk about the organization's waning market power since it decided to keep output steady in 2014 instead of cutting back. But it was OPEC's decision itself that led to a price drop of more than 50 percent. The price fluctuations Friday are more evidence that these nations haven't been sidelined and that Saudi Arabia, not the U.S. shale companies, is still the global swing producer. Now, however, the kingdom is playing an uncharacteristic game.
OPEC has appeared to be under threat for decades. In 1986, the political science professor Mohammed Ahrari published "OPEC: The Failing Giant." Yet it's still around, though it has no explicit methods for enforcing discipline and its members — especially the strongest, Saudi Arabia — often disregard collective decisions. The group has held together because the smaller producers need Saudi Arabia to stabilize the market when their own output fluctuates. The Saudis need the smaller producers to wield outsize power in a market where four of the five biggest producers are not OPEC members.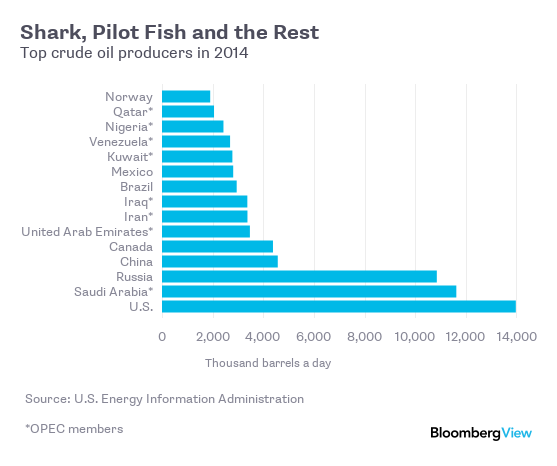 This setup doesn't require that OPEC members always raise or cut output in unison. In a 2013 paper, Khalid Alkhatlan of King Saud University and his co-authors described Saudi Arabia's policy within the cartel:
Saudi Arabia's output behavior has varied over time in a systematic way, in response to market conditions and also to interruptions within OPEC. Its behavior differed between "normal" periods and periods with interruptions. In normal periods, when faced with reduced demand, Saudi Arabia cooperated with its OPEC partners to restrict output. During interruptions, however, it would increase its output to offset reductions in the rest of OPEC, not to match the reductions.
The Saudis have acted independently at times: They cut exports in the mid-1980s, trying unsuccessfully to hold up high global prices, and they kept output steady in the 1990s, allowing other OPEC countries to regain market share at their expense. In both cases, the Saudis' policy didn't hurt the other OPEC members.
It's different now. The oil market is glutted. Exporters, especially those outside the Gulf, face higher costs and big budget deficits, and they need a big output cut from the Saudis. They're willing to pitch in with their own small cuts as long as the price rises. The Saudis usually have obliged in situations of reduced demand, but they won't this time.
If they cut output, the enormous losses sustained by OPEC members in the past year will have been in vain. The U.S. will increase production, which will lead it to lift its oil export ban, and OPEC members to start losing their export markets. Then, the organization's relevance will truly be at an end: Having lost its swing producer status, Saudi Arabia won't be able to stabilize prices for other OPEC nations.
The Saudis want a future in which the U.S. cannot claim the swing producer role. Although frackers have proved more resilient than expected a year ago, signs that they are losing ground are multiplying. In its November market overview, the International Energy Agencypredicted that the U.S. output of shale oil would drop by 600,000 barrels a day (the October estimate was a 400,000-barrel decline).  The frackers no longer can afford to hedge as much as they did last year, and now, credit markets are tightening for U.S. oil producers. Oil and gas companies now account for a third of total U.S. distressed debt. With a rate increase on the way, the more debt-dependent shale producers are about to come unglued.
If the Saudis agreed to a production cut now and prices jumped, it would provide relief to the frackers. The warring sides would be back to square one: The Americans would claim victory, OPEC members might get more revenue but they would face a battle for their traditional markets. The Saudis would hate that to happen, so they're unwilling to cut output. If they don't, other OPEC members can't do it, either: Without the Saudis, they have little hope of moving the market.
The Saudis are using the bloodbath to fight for market share: For example, by undermining Russia in European markets. In response, Russia keeps pumping, too, driving the price further down and playing into the Saudis' hands.
Saudi Arabia has a plan and nobody in OPEC has an alternative one. That's why there was no revolt against the Saudis on Friday, and that's why OPEC will stick together, for better or for worse.
*Leonid Bershidsky, [email protected] – Bloomberg