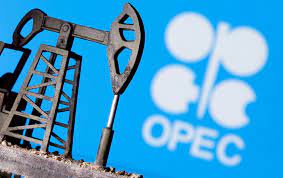 – Cites US debt ceiling risks
– Chinese oil demand growth increased to 800,000 bpd
– OPEC output falls by 191,000 bpd in April
– Says non-OPEC supply investment still below 2014 high
– OPEC+ meets to set policy on June 4
London — OPEC's global oil demand forecast for 2023 was held steady for a third month on Thursday, with the producer group citing the potential Chinese growth to be offset by downside economic risks elsewhere such as the U.S. debt ceiling.
World oil demand in 2023 will rise by 2.33 million barrels per day (bpd), or 2.3%, the Organization of the Petroleum Exporting Countries (OPEC) said in a monthly report. This was virtually unchanged from 2.32 million bpd forecast last month.
"Minor upward adjustments were made due to the better-than-expected performance in China's economy, while other regions are expected to see slight declines due to economic challenges that are likely to weigh on oil demand," OPEC said in the report.
A new round of oil output cuts announced on April 2 by some members of OPEC+, which comprises OPEC, Russia and other allies, has failed to boost oil prices that have been hit by further interest rate hikes and concern over the U.S. debt ceiling.
This is the last monthly OPEC report before OPEC+ holds its next policy meeting on June 4.
Chinese oil demand is now expected to rise by 800,000 bpd, OPEC said, up from the 760,000 bpd forecast last month, adding to a recovery after strict COVID-19 containment measures were scrapped.
The global growth figure, however, was unchanged for a third straight month and OPEC left its 2023 economic growth forecast at 2.6%, citing potential downside risks such as inflation and increasing debt payments from higher interest rates.
"In addition, the U.S. debt ceiling issue has so far not been resolved, a matter that could have economic consequences," OPEC said in its economic commentary.
Oil fell on Thursday, with Brent crude trading below $76 a barrel.
LOWER OUTPUT
The report also showed OPEC's oil production fell in April, reflecting the impact of earlier output cuts pledged by OPEC+ to support the market as well as some unplanned outages.
For November last year, with prices weakening, OPEC+ agreed to a 2 million bpd reduction in its output target – the largest since the early days of the COVID-19 pandemic in 2020. The April 2 voluntary cuts add to this total.
OPEC said its April output fell by 191,000 bpd to 28.60 million bpd, with declines in Iraq and Nigeria. Iraq's northern exports were halted while some of Nigeria's exports were disrupted by a labour dispute.
The report kept its forecast that non-OPEC supply would rise by 1.4 million bpd in 2023 and flagged factors that could limit or curb supplies, such as investment levels and the war in Ukraine.
While overall investment levels in non-OPEC supply in 2023 are expected to be just above pre-pandemic levels, they are still short of a $747 billion high reached in 2014 as oil companies focus on capital discipline, OPEC said.
*Alex Lawler, Editing: Mark Potter – Reuters
Follow us on twitter