Oscarline Onwuemenyi
29 February 2016, Sweetcrude, Abuja – President Muhammadu Buhari has told Qatar's ruler during a meeting in Doha on Sunday that OPEC needs to take action to stabilise the oil market because crude prices have fallen to "totally unacceptable" levels.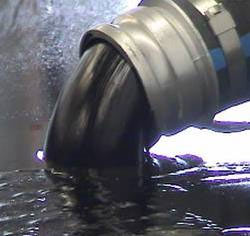 Speaking on the second day of his visit, Buhari highlighted the need for cooperation between OPEC and non-OPEC producers. "We must cooperate both within and outside our respective organisations to find a common ground to stabilise the market," said Buhari, who also discussed ways to stabilise prices with Saudi Arabia's King Salman in Riyadh last week.
The OPEC cartel needs to take action to stabilise the oil market because crude prices have fallen to "totally unacceptable" levels, Nigerian President Muhammadu Buhari said on Sunday.
Nigeria, Africa's biggest oil producer which earns around 90 percent of its foreign exchange earnings from crude oil exports, has been hit hard by the erosion of vital revenues caused by the global slump in oil prices which has also hammered its currency.
"The current market situation in the oil industry is unsustainable and totally unacceptable," Buhari told Qatar's ruler during a meeting in Doha, his office said in a statement.
On Thursday, Venezuela's oil minister said Qatar, Russia, and Saudi Arabia had agreed to a meeting in mid-March as part of efforts to stabilise oil markets.
According to a statement from Buhari's spokesman, Femi Adesina, the delegations from Nigeria and Qatar signed two bilateral agreements to "boost economic cooperation" between the countries.
There was an agreement to avoid double taxation and tax evasion as well as another that would pave the way for direct flights between major cities of both countries.
Meanwhile, the Nigerian and Qatari governments have reached out to Saudi Arabia and Russia, the world's two biggest oil producers and exporters, to cut oil output.
A presidency source said that the decision to push for production cuts stemmed from the lukewarm reception by the markets to last week's news of Russia and Saudi Arabia's decision to freeze oil output at January levels.
He said the Nigerian government, while welcoming the decision to cap output by Saudi Arabia and Russia, felt the announcement was insufficient to raise crude prices due to the supply glut in the market.
The source noted that the Minister of State for Petroleum, Dr. Emmanuel Ibe Kachikwu, is reaching out to Russia through back channels to go beyond the output freeze by taking 500,000 barrels off the market, while his counterpart in Qatar is talking to the Saudis to do likewise. "The target is to remove 1 million barrels per day from the markets to support prices and see if oil can stabilise at $50 per barrel" he said.
Buhari is scheduled to visit Qatar before the end of this week and is expected to hold talks with the country's ruler on the issue. However, attempts to get Saudi Arabia and Russia to cut output could prove to be a hard sell, as Saudi Arabia, which has remained adamant about retaining market share and taking out costlier US shale oil producers, last Tuesday again ruled out production cuts by OPEC.