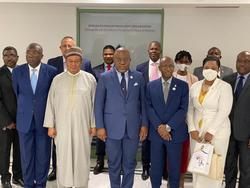 Brazzaville, the Republic of the Congo — OPEC Secretary General, Mohammad Sanusi Barkindo, accompanied by Bruno Jean-Richard Itoua, Minister of Hydrocarbons of the Republic of the Congo, met with Dr. Omar Farouk Ibrahim, Secretary General of the African Petroleum Producers' Organization (APPO), during a visit to the Organization's headquarters in Brazzaville.
The visit is part of the Secretary General's mission to the Republic of the Congo. He was accompanied by an OPEC delegation.
Dr. Ibrahim welcomed the Secretary General, the Minister and the accompanying delegation to APPO's headquarters.
Dr. Ibrahim commended the Secretary General for his effective role and his extraordinary diplomacy, which was instrumental in setting up the 'Declaration of Cooperation' (DoC) in 2016. Dr Ibrahim also thanked HE Barkindo for his continuous support for APPO.
Secretary General Barkindo noted that all of the African Member Countries of OPEC are also APPO Members, highlighting that both Organizations share a common interest in enhancing the exchange of knowledge, data and expertise to support their Member Countries and ultimately the energy market.
Barkindo stressed that cooperation between OPEC and APPO will become ever more important, as cooperation has proven invaluable in overcoming recent market challenges.
The Secretary General also briefed Dr. Ibrahim on the recent progress in the DoC process and ongoing market rebalancing efforts by OPEC and non-OPEC producing countries.
In this context, Barkindo thanked Dr. Ibrahim for APPO's support for the DoC since its inception in December 2016. He added: "Importantly, in April 2020 when we were putting together the response to the widening market crisis related to the pandemic, APPO threw its full weight behind these efforts."
The Secretaries General also discussed several issues related to the energy industry, such as low levels of investment, access to energy and socio-economic developments.
The Secretary General also visited APPO's 'Rilwanu Lukman Research and Development Centre.'
During the visit, Barkindo paid a special tribute to Dr. Lukman, as a respected figure and an eminent oil industry veteran.
"The Rilwanu Lukman Research and Development Centre bears the name of one of the oil industry's most influential and respected ambassadors," Barkindo stated, adding, "Dr. Lukman's passing in 2014 was a heavy loss for Africa, for OPEC and for the entire oil sector. He played a major role in the history of our Organization."
Dr. Lukman served as Nigeria's Petroleum Resources Minister and Presidential Adviser on Petroleum and Energy, as well as President of the OPEC Conference and OPEC Secretary General.
OPEC and APPO share seven Member Countries, namely: Algeria; Angola, which holds the presidency of the OPEC Conference in 2021; Congo; Equatorial Guinea; Gabon; Libya; and Nigeria.