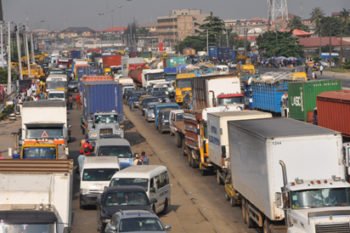 *Stakeholders, operators levy allegations of fraud, sabotage
Vincent Toritseju
Lagos — Following the increased sabotage of the Electronic Call-up System for Apapa ports bound trucks, the Truck Transit Park Limited, TTP, operators of the system has suspended 17 of its workers over alleged extortion.
Speaking to Newsmen on the suspension, Chief Operating Officer of TTP, Mr. Debo Adeboye, said that no member of staff of the firm would be allowed to be involved in a practice they are working hard to stop.
Adeboye also said if they are found to have been culpable in any way, they will be sacked so as to serve as a deterrent to others who might be nursing such idea.
He explained that because of the mouth watering offers that are made to the staff of TTP, the officers sometimes find it difficult to resist such offers and in the process become culpable.
He said; "For my own staff, some of them get tempted because the money that these operators are willing to offer as bribe are irresistible but we have suspended 17 staff and if any of them are found wanting, they will be sacked."
He accused stakeholders who have been crying foul of the system as the actual saboteurs of the system.
Meanwhile, major truck owners operating in Lagos ports have opened a can of warms, revealing monumental fraud and extortion in the electronic call-up system that was introduced by the Nigerian Ports Authority (NPA) in February 2021.
The truck owners who spoke as members of Council of Maritime Truck Unions and Associations (COMTUA), and concerned stakeholders said that implementation of the e-call up system has turned fraudulent and open to sabotage.
COMTUA is made up of truck owning associations in the Nigerian maritime sector. Member associations include: Road Transport Employers Association of Nigeria (RTEAN), National Union of Road Transport Workers (NURTW), Nigerian Association of Road Transport Owners (NARTO) and Maritime Workers Union of Nigeria (MWUN) and Corporate Fleet Owners.
Those who spoke with journalists over the weekend expressed shock that contrary to the agreement that the electronic call-up system will cost N10,000, truck owners now pay as much as N31,500 for the service.
In addition, they said the system has been so compromised that trucks that had genuine call-up into the ports are not allowed in, even as they stated that the trucks that are currently in the terminal found their ways in fraudulently.
They also alleged that there is a high level of collusion between officials of the Lagos State Government that were drafted into the special task force, the operators of the truck parks and the Police.
Reacting to the development, the Chief Operating Officer of the Transit Truck Park, Mr. Debo Adeboye, disclosed that his organization can never connive with anybody to circumvent the system adding that TTP only makes money when the system works.
According to Mr. Leye Thompson, President of COMTUA, N500 is paid to register any truck on the platform, then if any truck has a job in the port, another N10,750 for booking, after which another N6,000 is paid for verification and merging cost another N10,000 and another N6,100 for exit.
Thompson also said that any truck coming from Pre-gate pays as much as N15,000 plus another N15,000 to access the ports.
He said: ''What they collect now is different from what we agreed initially; it is only in Nigeria that you want to go and carry container from the port and you pay to do that.
Adeboye also said that he is aware that some members of the Task Force were involved in extortion adding that they are trying to put a stop to the practice.
He said: "We have heard of the enforcement arm of the Task Force extorting money and we are trying to put a stop to that.
"We are trying to fix the problem; we had a meeting with the Lagos State Government and they are changing the whole Task Force. We want the Policemen to step back; we want to replace the whole LASTMA officials and we are changing the structure.
"The Nigerian Ports Authority, NPA, and the Lagos State Government are making plans to correct these anomalies."
On the payment of the stipulated service charge of N10,000 per truck which the truck owners said have been increased to N31,500, Adeboye said that that claim was not true noting that it is only those that do not want to follow the laid down process and procedure that pay more than what is stipulated.
Follow us on twitter