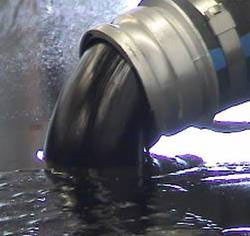 22 August 2013, Abuja – Members of the Oil Producers Trade Section, OPTS, have said the current figures bandied around as Nigeria's daily crude oil loss to theft, owing to illegal bunkering activities in the Niger Delta region was inaccurate.
It said Wednesday in Abuja that Nigeria's actual crude oil loss to theft had for a while hovered around 49,000 barrels per day, bpd, as against the often quoted figure of 400,000bpd depending on the level of criminal activities recorded at a particular production point within the Niger Delta region.
The OPTS is an 18-member advocacy group made up of both indigenous and foreign operators in the Nigerian petroleum industry.
They among other things define and address non-competitive issues of common interest to its member to ensure the continued viability of the Nigerian petroleum industry, promote the exchange of ideas and non-competitively sensitive information between its members to enhance their operational activities and also improve safety and environmental performance in the sector.
The group equally provides a forum for advocacy in relation to government policies, laws and regulations that impact the nation's petroleum industry, while promoting the awareness of stakeholders in the industry and the Nigerian public at large on issues affecting the industry.
A representative of OPTS, Mr. Ayobami Olubiyi, while making clarifications on the level of crude oil theft in Nigeria, at a roundtable on voluntary principles for security and human rights, explained that there were indeed differences in crude oil theft and production shot-in by oil companies.
He said: "It is important that we clarify the actual figures being put out as crude oil stolen in the country. By the calculations of the OPTS, what we record as loss due to theft is about 49,000bpd and further production shut-in due to pipeline sabotage.
"There is what is referred to as deferment and outright theft of crude oil; the figure as at today is that 49,000bpd is lost to theft while about 350,000bpd is shot-in, that means production from a particular sabotaged line is stopped and the companies declare a force majeure; this figure is specific to the IOCs except for the NPDC."
Olubiyi also stated that the quantity of crude oil losses in the Niger Delta is always determined by the level of criminal activities at a particular point in time, adding that the figures obtained by the OPTS as at June indicated that about 25,000bpd were stolen.
Country Director of Global Rights, Mrs. Abiodun Baiyewu, who spoke earlier on the possible benefits of the voluntary principles to Nigeria's oil and gas sector, noted that the framework was designed to guide companies maintain safety and security of their operations with respect to globally accepted human rights practices.
Baiyewu explained that the voluntary principles are useful tools for governments with interests in the operations of the extractive industries, adding that its features which include collaborative problem solving techniques with governments, companies and civil societies has been designed to guide extractive companies to provide security for their respective operations.
– Chineme Okafor, This Day